Supplemental Nutrition Assistance Programs at the Farmers Markets in Chelsea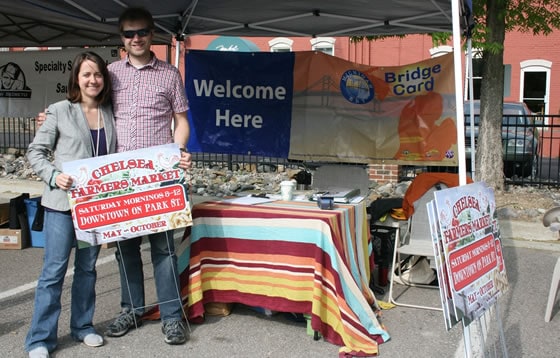 The Supplemental Nutrition Assistance Program (SNAP), also known as the Bridge Card, is the nation's largest nutritional assistance program and the cornerstone of the Federal Government efforts to alleviate hunger. At farmers markets, SNAP benefits are accessed via and Electronic Benefit Transfer (EBT). Customers swipe their Bridge Card at the point of sale machine, and receive tokens to purchase from farmers.

At the market in Chelsea, visit our welcome booth to receive tokens or ask for any additional information you may need. Simply swipe your card, get your tokens and use your tokens to buy fresh food including fruits, vegetables, meats, cheese, bread, eggs and plants to grow vegetables in your garden. Tokens may not be used to purchase hot food products.
How do I sign up for SNAP/EBT?
For more information on obtaining Bridge Cards, visit: www.mibridges.michigan.gov/access
Department of Health Services will be at Faith In Action to help sign up for Bridge Cards on Wednesdays. Visit the Faith In Action website or call (734) 475-3305 for location and hours.
WAVE bus service available to Bridge Card customers
The Western-Washtenaw Area Value Express (W.A.V.E) bus will provide FREE service on market days for free to all customers who show a Bridge Card on their way to the farmers market from July to October.
Click here to view the Chelsea Community Ride schedule.
What is Double Up Food Bucks?
If you are eligible for SNAP and use your SNAP Bridge Card to shop for food at the farmers markets, the amount of money you spend is matched with Double Up Food Bucks bonus tokens, which can be used to purchase produce at the market. Double Up Food Bucks runs June through October only at the Chelsea Farmers Market on Saturdays and Bushel Basket Market on Wednesdays.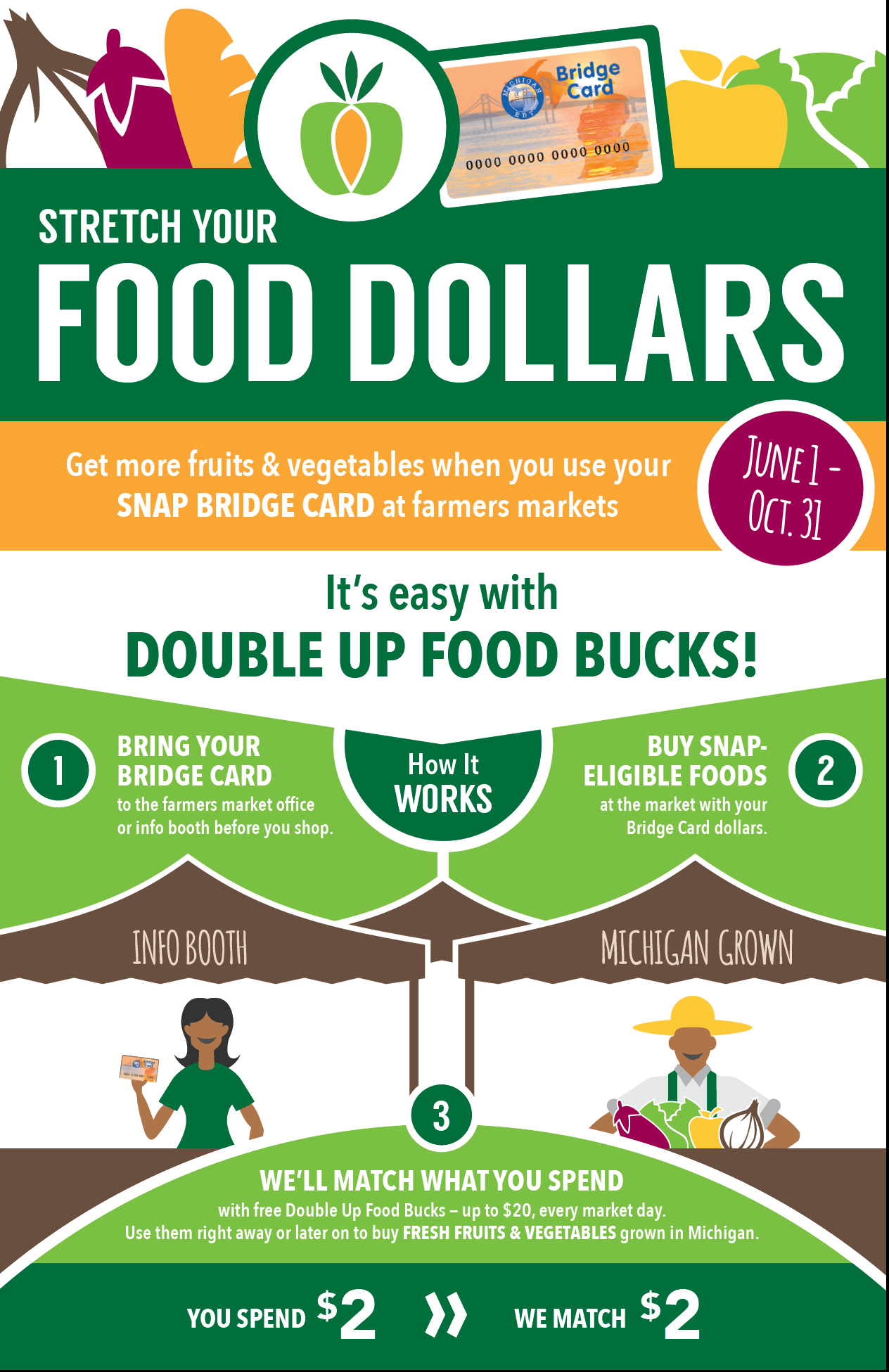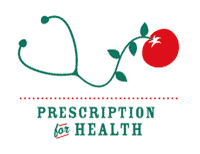 What is Prescription for Health?
Faith in Action's Grace Clinic is participating in the Prescription for Health Program, which connects patients at medical clinics to their local farmers market. Participants receive nutrition education and support, and they also receive coupons to purchase fresh fruits and vegetables at the farmers markets June – October!
For more information
If you  have questions about how to use SNAP/EBT or Double Up Food Bucks at the farmers markets in Chelsea, please contact our Market Coordinator at coordinator@chelseafarmersmkt.org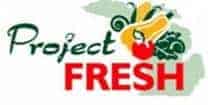 What is Project Fresh?
Project Fresh includes fruit and vegetable benefits for Women Infants and Children (WIC). Women who are either pregnant or breastfeeding are targeted to help meet their special nutritional needs with coupons used at farmers markets.
The market also plans on implementing Senior Project Fresh coupons this year. Check back later for more details about this program.