Bushel Basket Farmers Market Vendors
Wednesdays

Every week from May through October, our full season vendors will be at the farmers market in downtown Chelsea, MI, ready to greet you with what's fresh.
SATURDAY VENDORS | WEDNESDAY VENDORS (below)
---
Bordine Farms
Duane Bordine 4149 Brogan Rd. Stockbridge, MI
Cut flowers.
---
Bow Wow K9 Tasty Treats
Felicia Cram, Bridget Cox, and Dakota Moulton
After receiving their license in May of 2015, this family business splurged on creating inventive and creative treats for dogs. All treats are homemade, organic, non-GMO, and they are currently working on grain and wheat free products. Some of their popular flavors (by both dogs and humans) include apple jacks, lep pot of gold, pumpkin peanut butter, and ginger barks! YUMMMM-O!
---
Family Circle Centennial Farms
Emily Griswold 14320 Territorial Rd. Stockbridge, MI
As a 5th generation farmer on a centennial farm, Emily upholds the belief that everyone should have the right to access fresh fruits and vegetables and is committed to raising the highest quality produce through ecologically sound, sustainable and conscientious practices. By farming about 2 acres of vegetables for their Community Supported Agriculture/Markets, this farm promotes spreading the risks of farming between members of the farm while also supporting the access of fresh produce directly from the farmer. Alongside providing everything from beets, herbs, tomatoes, and sweet potatoes, this farm also produces honey and offers workshops on canning, cheese making, seed saving, and more!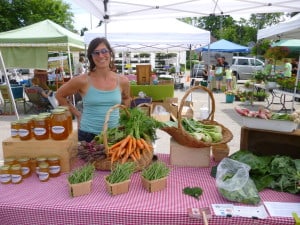 ---
Golden Fleece Farm, LLC
Brett and Barb Seabury 4608 Sylvan Rd. Grass Lake, MI
www.goldenfleecefarm.com
Although not born into a family of farmers, but the start of their farm in 1975 came from the love of being outdoors and animals. It has always been important to them to have good quality food that is natural as possible, without hormones pesticides, fungicides, and herbicides. Besides having an organic vegetable garden and producing grass fed lamb products including chops, steak, shanks, stew, shish kabob, sausage, and eggs, they have raised goats, sheep, chickens, turkeys, ducks, geese and a Suri llama.
In the off-season, Golden Fleece Farm meat can be purchased at the Saline winter market and Argus Farm Stop in Ann Arbor
---
Kapnick Orchards
Scott Robertello 4245 Rogers Highway Britton, MI
Kapnick Orchards has been a family owned business for many years. It was founded in 1958 by Robert and Gertrude Kapnick and Charles and Janice Kapnick. Our farm market, near Tecumseh, was first opened in 1961. In 1975, Charles and Janice purchased the market from Charles' parents Robert and Gertrude Kapnick. Currently the market is operated by Sharon and Bruce Shaffer and Scott Robertello, who purchased the farm from Janice in 2001. Sharon is the daughter of Janice and Charles. In 2011, Kapnick Orchards celebrated their 50th anniversary. During the fifty years, Kapnick Orchards has seen many changes. It was transformed from a one room store to the larger operation of today.
Some of their produce includes: Asparagus, Strawberries, Cherries (sweet & sour), Red Raspberries, Black Raspberries, Peas, Beans, Blueberries, Potatoes, Apricots, Plums, Peaches, Nectarines, Pears, Apples and Squash. Baked Goods & Apple Butter are also available!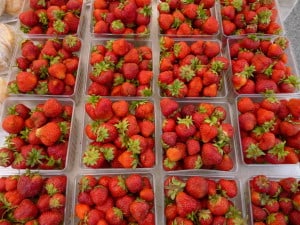 ---
Janet's LLC
Janet Brown 1866 Lima Center Dexter, MI
Grilling rubs, jam, flavored nuts, suckers, U-M and MSU "dammit dolls," and greeting cards.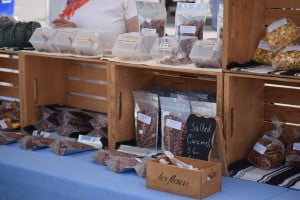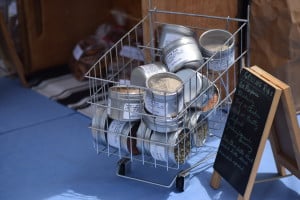 ---
Lutchka Angus and Farm Market
Joan Lutchka 1439 Francisco Rd. Grass Lake, MI
www.realtimefarms.com/farm/1187022/lutchka-farm
As original members of the Bushel Market since its location at the hospital, they produce everything at their farm and in fact have a market of their own at home. In addition to being MAEAP certified, double up food bucks and market currencies are accepted at their stand while at the market. Catch them as they sell their no spray radishes, kale, root vegetables, pumpkins in the fall, sweet corn, and more!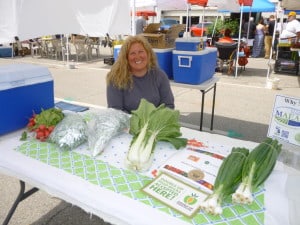 ---
Marks Farms and Greenhouse
In the off-season, Marks Farms and Greenhouse products winter markets in Ypsilanti on Tuesdays at the Corner Brewery, Allegiance Hospital in Jackson on Thursday mornings, and Saline on Saturday mornings. They'll be selling fall/winter vegetables, along with fresh evergreen wreaths, grave blanket and  pillows, cemetery pieces, roping and centerpieces.
Deb Marks 7290 Laberdee Rd. Britton, MI
www.localharvest.org/marks-farms-greenhouse-M56134
Hanging baskets, herb plants, strawberry plants, succulents, assorted vegetable plants.
 
---
Pregitzer Farm Market, LLC
Wade Pregitzer 6870 Territorial Munith, MI
yourfarmmarket.com
CSA (community supported agriculture) shares, tomato, pepper, egg plant,cucumber, herb plants, cabbage, broccoli, annual flowers.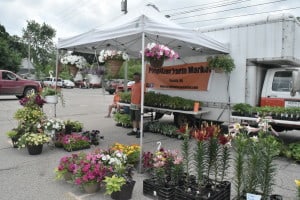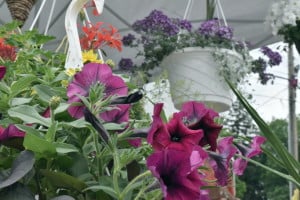 ---
Stonehearth Breads and Bakery
Adam Ulbin 305 S. Main St. Brooklyn, MI
Our bakery is celebrating its fifth year in business this year, and specializes in crusty, artisan breads made from scratch without preservatives. Stone Hearth Breads and Bakery has a retail store in Brooklyn and sells at the Ann Arbor Westside, Adrian, Ypsilanti, Jackson, and Chelsea Farmers' Markets.
 
---
Gasche Farms
Gerry Gasche
Berries, asparagus
---
Country Home Bakery
---
HumusFalafel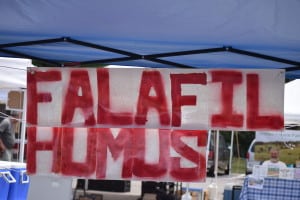 ---
Needle Lane Farm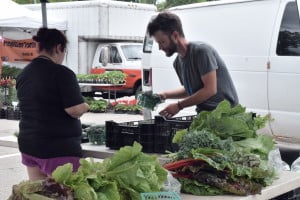 ---
Jacob's Fresh Farm Shares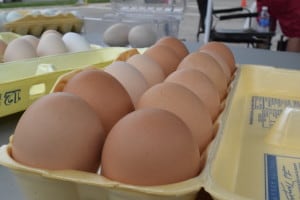 ---
Hanover Craft Meats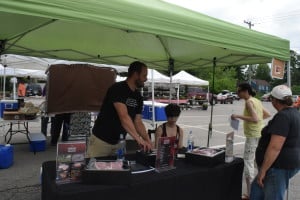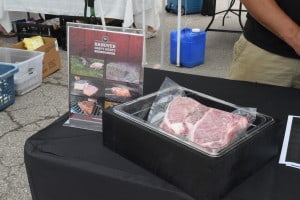 ---
Good Times Kettle Corn