Prepare for the 4th at the Bushel Basket!
| | |
| --- | --- |
| Where | In the parking like of the U of M Family Practice Building (follow signs from Main St. and US 12) at Chelsea Community Hospital. |
| When | Wednesday, 2:30 pm – 6:00 pm |
| Events | Veo Art Studio will have a demonstration on flower pot painting at the market – come by for this free tutorial, and pick up some flowers! |
Happy 4th!  Healthy Tart Recipe Below
Get your favorite 4th of July foods at the farmers market:
sausage for the grill,
hummus,
salsa and healthy Michigan made chips,
the last crop of strawberries
and lots of summer squash and greens for your salads, plus treats for dessert!
Double Up Food Bucks and Prescription for Health are back at both markets in June!  See our website for more information:  https://chelseafarmersmkt.org/assistance/

Double Up Food Bucks and Prescription for Health are back at both markets in June!  See our website for more information:  https://chelseafarmersmkt.org/assistance/
Thanks to Chelsea Update for this detailed vendor list and photos!
Kapnick Orchards: Raspberries, blueberries, sugar snap peas, snow peas, potatoes, apple cider, pie, peanut, cashew and almond butters, assorted varieties of bread, sweet rolls and fudge.
Greystone Farm and Creamery: feta, plain and garlic cream cheese, feta, grated butternut, Chelsea-Cam, Rosy-cam, ricotta, grated man-chel, cow gouda, sheep gouda and butternut by the piece. Plus, new horse radish-bacon cream cheese.
Lutchka Farm: brown eggs, green onions, bok choy, kale, basil, herbs, broccoli, beets, cilantro, sugar snap peas.
Stonehearth Bread: Artisan breads made from scratch. Cheese sticks, rosemary herb bread, Asiago Kalamata bread, Polish pumpernickel, Country loaf, Apple cinnamon, red raspberry/dark chocolate, strawberry/white chocolate, blueberry cream cheese, eight grain, Italian, honey whole week, German rye, spinach feta cheese, bacon cheddar beer bread, cookies, brownies, sticky lemon buns, blueberry buns, 4-cheese pepperoni rolls, habanero/jalapeno pepperoni rolls, apple walnut, red raspberry bread and San Francisco sourdough.
Peas and broccoli.
Guthrie Gardens:  lots of perennials coming into bloom, hanging baskets and planters, flowering shrubs, specimen trees, assorted veggie plants. evergreen trees, dawn redwoods and Japanese maples.
Needle Lane Farm: herb plants, kale, lettuce, salad mix, spinach, chives, collards, turnips, chard, bulb fennel, cilantro, basil, honey, summer squash, shell peas, snow peas, broccoli.
DeVulder's Farm: vegetable plants, lettuce bowls, herb plants, cut flowers, dried bouquets, cuts of rhubarb, arugula, basil pots, radishes, maybe cucumbers/pickles, green onions, cilantro, dill, sweet peppers, yellow cherry tomatoes.
Marks Greenhouse: hanging baskets, lots of herbs, combination pots, succulents, peanut plants and more than 20 varieties of tomato plants, assorted other vegetable plants, fresh kale, citronella plants, beets, kohlrabi, broccoli, onions, sugar snap peas, new potatoes, maybe cabbage.
Janet's LLC: 
pecan and cashew brittle, flavored peanuts from mild to hot, salted caramels, assorted jams, pretzel mix, nut bars, turtles, peanut butter fudge, cross-stitch greeting cards, Dammit dolls and grilling rubs.
Pregitzer Farm Market, LLC: combo planters, annuals, possibly broccoli, cabbage, cucumber, container tomatoes, herbs, hanging tomatoes. Be sure to ask about the farm's community supported agriculture (CSA) shares of fresh fruit and vegetables delivered to the market starting soon.
Kapp's Bakery: eggs, pretzels, snicker doodle, peanut butter, chocolate chip, oatmeal raisin,  rice crispy treats,  cottage cheese onion dill loaf and rounds, dried herbs and cinnamon rolls, lettuce leaf basil, oregano, snap peas, maybe green beans.
Kelly Farms: maple syrup.
Golden Fleece Farm, LLC: lamb — chops and ground, pork – ham steak, soy-free eggs, grass fed beef including brats, Italian sweet sausage, ground beef, patties.
Jar Head salsa
Eisenhower Center: Essentials line soap, lip balm, pens, seeds, soy candles, body, hand lotions and sanitizer, assorted wooden toys and puzzles, assorted vegetables, bird houses, seeds, flower pots with tulips, build your own $10 tins with assorted Essentials line inside.
Family Circle Centennial Farm: scallions, herbs, carrots, Swiss chard, collards, kale, baby lettuce leaf and head lettuce, snap peas, green beans, lettuce salad mix, kohlrobe, maybe cherry tomatoes.
Mama Mo: 17 flavors of hummus – traditional, lemon zest, tan/cran orange, roasted pepper, tomato basil, onion dill, roasted garlic, roasted beet, chipotle, ginger squash, sesame chive satay, curry lime, kalamata rosemary, black pepper walnut, horseradish, wasabi, jalapeno; 8 flavors of seitan – traditional, nuggets, fajita strips, BBQ, vegan BBQ, roast, Italian fennel sausage, breakfast sage sausage. Pesto with the following ingredients: walnuts, Pecorina Romano cheese, organic basil, garlic and extra virgin olive.
Good Times Kettle Corn: small, medium and large bags of kettle corn popped fresh.
Jar Head Salsa: mild, medium, spicy salsa, corn tortilla chips and chili lime sea salt chips, whole grain tortillas and garlic sea salt, "Kaeso Dio" cheese sauce, Bloody Mary mix. canned salsa both mild and spicy.
New vendor — Bodine Farms: mixed cut flower bouquets with recycled containers.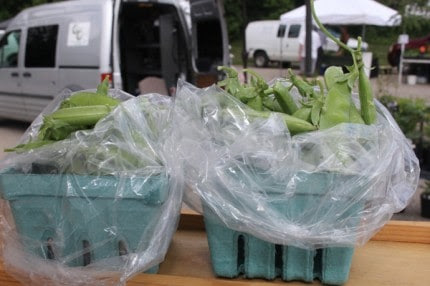 In Season Recipes:
High Protein Summer Fruit Tart
* Means found at farmers market
Ingredients:
TART
– 
2 1/2 cups almond flour (in most health food isles, gluten free sections of your grocery)
– 1/2 tsp. sea salt
– 1 large egg*
– 1 tsp. orange zest
– 1/4 cup coconut oil
– 1/4 cup raw honey *
– 1 Tbsp. vanilla extract
COCONUT WHIPPED CREAM
– 1 can full fat coconut milk, refrigerated for 6 or more hours (to allow the cream to separate from the milk)
– 1 Tbsp  vanilla extract
– 2 Tbsp. raw honey*
FRUIT TOPPING
– Seasonal fresh fruit, sliced (we recommend strawberries, blueberries and raspberries for a patriotic twist)*
Equipment:
– 2 medium sized mixing bowls
– Whisk or fork
– Hand mixer
– Baking tray
– Parchment paper or baking mat
– Wire cooling rack
– Cutting board
– Kitchen knife
Directions:
TO MAKE THE TARTS:
1. Preheat oven to 350F. Combine the almond flour and sea salt together in a medium sized mixing bowl and set aside.
2. Add the egg to a medium sized mixing bowl and beat with a hand mixer on low for about 20 seconds. Add the orange zest, coconut oil and vanilla extract and beat until combined. Gradually add in the almond flour mixture until combined.
3. Roll the dough into 6 balls and place on a baking sheet lined with parchment paper or a baking mat. Pat the dough down into thick flat round tarts about 4″ in diameter.
4. Bake for 9-12 minutes or until tarts just begin to turn a light brown color. Remove and let sit on the baking sheet for about 5 minutes and then move to a wire rack to cool completely.
TO MAKE THE COCONUT WHIPPED CREAM:
1. Open the can of coconut milk and scrape out the cream into a medium sized bowl. Hint: I always open the can from the bottom and pour the milk out into a separate container before scraping out the cream.
2.  Add the vanilla and raw honey to the coconut cream. Whip with a hand mixer until well combined (2-3 minutes). Place the bowl of whipped cream in the fridge until ready to use.
TO ASSEMBLE:
1. Once the tarts have completely cooled, top them with the whipped coconut cream and the sliced fresh fruit, like blueberries, raspberries and strawberries, and serve.
Recipe From:  http://www.paleocupboard.com/fruit-tart.html
---