Low fat Creamy Slaw                                                      Serves 4
Wash and prepare vegetables:
2 cups shredded or coarsely chopped cabbage                                   ½ cup shredded carrot
¼ cup chopped red or green bell pepper                                                               ¼ cup onion, finely chopped
Chill vegetables while you mix the dressing:
1/3 cup plain low fat Greek yogurt                                          1 tablespoon apple cider vinegar
2 tablespoons honey
Add dressing to vegetables.  Mix well.  Chill at least 15 minutes.
Serve with a slotted spoon.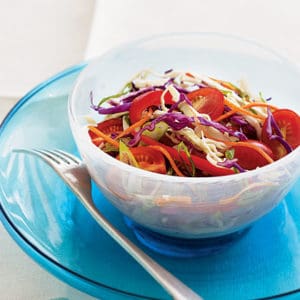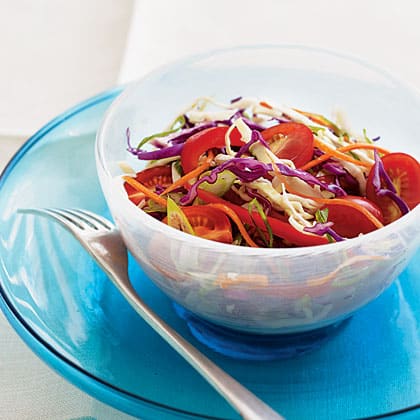 Freezer Slaw                                                                                      8 servings
Wash and prepare vegetables:
1medium head cabbage, chopped or shredded                 1 cup shredded carrot
1 green or red sweet bell pepper, chopped                         1 small onion, finely chopped
1 teaspoon salt.
Mix vegetables with salt and let stand 1 hour.  Mean while, prepare dressing:
1 cup vinegar                                                                                     1 cup sugar
¼ cup water                                                                                       1 teaspoon celery seed
1 teaspoon mustard seed
Place dressing ingredients in saucepan.  Heat to boiling.  Boil 1 minute.  Set pan in a bowl of ice water and cool,  stirring occasionally.
Pour over vegetables.  Stir well.  Place in freezer bags.  Freeze for up to 3 months.  Thaw before serving.
*Recipes by Judy Radant