———————————————————————————————
Trying to plan a party or gathering with some fantastic food? Get inspired by the rich colors of summer fruits and vegetables and stop by the farmer's market for the supplies you need to prepare this week's in season recipe
Hearty and Delicious Kale, Beet, Feta and Hazelnut Salad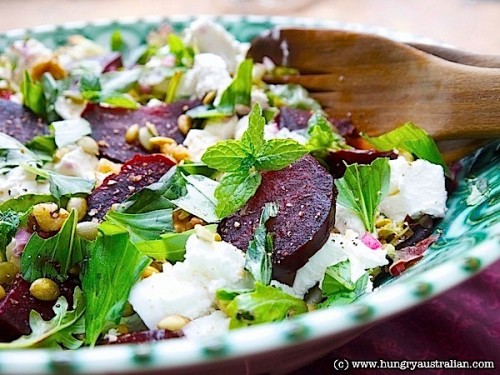 Why We Love It: Well, aside from the fact that most of the ingredients are locally grown and available at the Bushel Basket, Kale has powerful antioxidants, anti-inflammatory Omega-3 fatty acids, and high fiber content, which is why it's considered one of the "super foods" that everyone should include in their diet. It also provides high doses of vitamins K, A and C!
Check Out the Recipe Below!
We are happy to accept two new programs at the Bushel Basket:
Prescription for Health (starting July 10th), and the Supplemental Nutrition Assistance Program (also known as Bridge Cards)
Please visit the market information table for specifics on the programs!
In Season Rec

ipe of The Week

 
Hearty and Delicious Kale, Beet, Feta and Hazelnut Salad
Ingredients
1 bunch
Kale
1 lbs. of
Beets
1/4 cup of
Crumbled Feta Cheese
1/4 cup
Chopped hazelnuts
Dressing:
3 Tbsp
Hazelnut Oil
1 Tbsp
Honey
1/2 tsp
Salt
Preparation 
Wash beets and boil them until they are soft enough to stick a fork into. Leave the tops and root bit on the beet (apparently that helps maintain flavor and nutrients). Allow beets to cool, remove tops and roots, peel, quarter and slice thin.
 
Chop hazelnuts and roast in the oven or on low on the stovetop stirring frequently. They're ready when golden brown.
 
Wash kale. Tear or cut into salad-sized pieces and put in a salad bowl.
 
Mix hazelnut oil with Honey and salt. If the oil and honey are difficult to mix just warm the oil so that it more easily dissolves the honey.
 
Toss the dressing with the kale then top with beets, feta cheese and roasted hazelnuts.
Recipe adapted from TLC Cooking and The 100 Mile Diet website.
ENJOY 
——————————————————————————————–
 
New Vendor Offerings this Week:


Seasonal Vendors
 * Ingredient for the In Season Recipe
Kapnick Farms: Cherries,strawberries, maybe snap peas, fudge and baked sweet rolls.
Sprouted Alive Bakery: whole grain, raisin, sprouted and gluten-free bread.
 
Kapp Farms: baked goods, pretzels, and rolls, hot and olive twists, cinnamon rolls, spinach.
 
Lutchka Angus and Farm Market: onions, eggs, Bok choi, radishes, spinach, beets*, herbs, snow peas and sugar snaps.
 
Oak Hill Farm: honey*, bee pollen, lotion bars, candles, gift bags with assorted honey products.
 
Mark's Farms and Greenhouse: hanging baskets, herb plants, succulents, assorted vegetable plants, maple syrup, Bok Choi, kale*, chard, spinach, kohlrabi, beets, green onions, broccoli and lettuce.
 
Golden Fleece Farm, LLC: grass fed lamb products including leg, shanks, stew meat , and eggs. Grass fed beef coming soon.
 
Greystone Creamery: feta*, possibly ricotta, Man-chel cheese, possibly cow Gouda, Chelsea-cam, Rosy-cam, blue Man-chel, sheep Gouda, butternut, garlic pepper and plain cream cheese.
 
Pregitzer Farm Market, LLC: Community Supported Agriculture (CSA) shares, baskets and planters, tomato and pepper plants, sale on annual flowers.
 
Janet's LLC: grilling rubs, jam, flavored nuts, suckers, cajun butter, spices to make flavored butter, U-M and MSU dolls, and greeting cards.
 
T. J Farms: roses, lilacs, hydrangea and other perennials, nursery stock plants, trees and bushes. 
 
Tasty Bakery: wheat-free, gluten-free bars, cookies, bread and scones, including Michigan cherry scones, mini zucchini bread, berry bars, oatmeal chocolate chip cookies, vegan chocolate chip cookies, lemon bars, fudge brownies, berry bars.
 
Parker Kitchen: assorted bread, radishes, cookies, catnip toys, afghans and quilts, glasses for rednecks.
 
Mama Mo: hummus and seitan. Hummus flavors include ginger squash, tan/cran orange, sesame chive satay, kalamata rosemary, black pepper walnut, roasted pepper, horseradish, roasted garlic, traditional, lemon zest, curry lime, tomato basil, onion dill, roasted beet, wasabi, jalapeno, chipotle. Seitan flavors include: nuggets, traditional, fajita strips, Italian fennel sausage, breakfast sage sausage, vegan BBQ, BBQ, roast.
 
Stone Hearth Breads and Bakery: pumpernickel, German rye and German rye seeded, Italian Milano, honey whole wheat, San Francisco sourdough, assorted cookies and buns, four-cheese pepperoni rolls, spinach feta cheese bread, multi-grain bread, country loaf, cheese bread, rosemary herb and tomato basil bread, four-cheese bread sticks, jalapeno cheese bread and assorted sweet breads — including cinnamon, cinnamon raisin, strawberry white chocolate, peach pecan, wild blueberry cream cheese, Reuben rolls, and bacon cheddar beer bread.
——————————————————————————————–
 
For all the best in-season, summertime foods and recipes, stay tuned for the weekly installments of the
Bushel Basket Newsletter
——————————————————————————————–