The new 
Chelsea Winter Farmers Market
 takes place on 
Dec.12
 in the cafeteria of the Washington Street Education Center from 
9 a.m. to noon
 and there are only a few weeks left in the season so be sure to check it out.
Saturday, there will be gift baskets and visitors can pick out a basket, wrapping and ribbon and fill it with holiday gifts while you are strolling through the market.
Below is a list of the vendors who are expected to be there but please keep in mind that plans can change unexpectedly.
*Thanks to Chelsea Update for content and pictures
Chandra June – jewelry
Robin Hills Farms – Herbs, arugula, beets, Brussel sprouts, salad mix, carrots, cilantro, Swiss chard, collards, kale, lettuce, mustard greens, onions, spinach, tatsoi, baby pac choi, squash, potatoes, onions.
Stone Hearth – Artisan breads made from scratch with no preservatives including apple cinnamon, peach pecan, bacon cheddar beer bread, and German sauerkraut; pepperoni rolls and Reuben rolls, cookies, buns, brownies.
Dave's Honey – Raw Local Honey: 2 oz., 8 oz, 16 oz, 6 lb jars — Bee's wax, Candles, Propollis, Bee Pollen and a fabulous Honey Health Drink.
Pregitzer – winter squash, Brussel sprouts, winter vegetables
Tantre – Beets (Red Ace, Golden and Chioggia), Bok Choy, Brussels sprouts, Cabbage, Carrots (orange and purple), Collard Greens, Kale (many varieties), Onions (red and yellow), Potatoes (blue, red, yellow, and fingerlings), Pumpkins, pie, Radishes, Daikon (white, green, and purple), Radishes, Watermelon, Rutabaga, Spinach,
 Squash, Winter (many varieties), Turnips (Hakurei White and Purple Top)
Girl Scout Troop 40516 – nuts and candy
Lands of Bru-Garick – free range eggs
Marks Farm – Winter greens, squash, root vegetables, Christmas decorations in December
La Baguette – baguettes, boules, madeleines, brioche
Breakin Away Cafe – Cookies, caramel corn, breakfast bars, cereal made from oats, nuts, seed and dried fruit, two snack mixes – one with nuts, dried fruits and M and M's and the other is a Chex mix.
Finding the Trails Soap – Cold processed natural soaps
Frog Hollar – Varieties of salsas, preserves, fruit butters. Cookies and sweet potatoes.
Affeathermations – Seasonal creations and natural media, earthwork arts and crafts for ceremony or celebration.
Pictures and Thread – custom embroidery
Kapnicks Orchard – Baked goods, cider and apples
Renovatio Woodworks – handmade furniture
Break 'O Day Farm – pork, baked goods
Healing Energies – salves, essences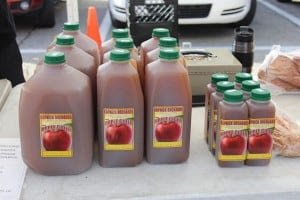 Geotz Farm – Centerpieces and swags, carrots, lettuce, Swiss chard, kale, fingerlings and sweet potatoes.
Country Hills Pottery – Wheel thrown functional pottery and a variety of unusual gifts.
Debbie's Bead Design – Fun woven and strung beaded work including bracelets and ankle bracelets, earrings, necklaces and Swarovski beads.
Golden Fleece Farms – eggs, grass fed beef
Cakes by Penny – coffee cake
Carolyn Myer – jams