The new 
Chelsea Winter Farmers Market
 takes a final bow on 
Dec.19
 in the cafeteria of the Washington Street Education Center from 
9 a.m. to noon
.
There will be gift baskets and visitors can pick out a basket, wrapping and ribbon and fill it with holiday gifts while you are strolling through the market.
Below is a list of the vendors who are expected to be there but please keep in mind that plans can change unexpectedly.
*Thanks to Chelsea Update for contents and pictures
Chandra June – jewelry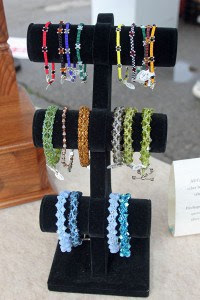 Robin Hills Farms – Herbs, arugula, beets, Brussel sprouts, salad mix, carrots, cilantro, Swiss chard, collards, kale, lettuce, mustard greens, onions, spinach, tatsoi, baby pac choi, squash, potatoes, onions.
Brieland Shoultz Farm – soap, jams, eggs
Stone Hearth – Artisan breads made from scratch with no preservatives including apple cinnamon, peach pecan, bacon cheddar beer bread, and German sauerkraut; pepperoni rolls and Reuben rolls, cookies, buns, brownies.
Dave's Honey – Raw Local Honey: 2 oz., 8 oz, 16 oz, 6 lb jars — Bee's wax, Candles, Propollis, Bee Pollen and a fabulous Honey Health Drink.
Pregitzer – winter squash, Brussel sprouts, winter vegetables
Marks Farm – Winter greens, squash, root vegetables, Christmas decorations
La Baguette – baguettes, boules, madeleines, brioche
Breakin Away Cafe – Cookies, caramel corn, breakfast bars, cereal made from oats, nuts, seed and dried fruit, two snack mixes – one with nuts, dried fruits and M and M's and the other is a Chex mix.
Carolyn Myer – jams
Several vendors at the Saturday Farmers Market have soap and honey for sale.
Finding the Trails Soap – Cold processed natural soaps
Frog Hollar – Varieties of salsas, preserves, fruit butters. Cookies and sweet potatoes.
Affeathermations – Seasonal creations and natural media, earthwork arts and crafts for ceremony or celebration.
Pictures and Thread – custom embroidery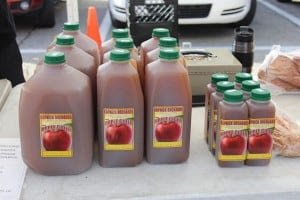 Kapnicks Orchard – Baked goods, cider and apples
Renovatio Woodworks – handmade furniture, small under $35 home décor items
Watercolour Porcelain – pottery
Break 'O Day Farm – pork, baked goods
Healing Energies – salves, essences
Janet's LLC – flavored nuts, rubs, assorted sweets and treats
Country Hills Pottery – Wheel thrown functional pottery and a variety of unusual gifts.
Debbie's Bead Design – Fun woven and strung beaded work including bracelets and ankle bracelets, earrings, necklaces and Swarovski beads.
Golden Fleece Farms – eggs, grass fed beef
Judi Sweets – gourmet chocolates