Activities this week:
– Cooking demo: dill new potato salad
– Music: Ed Sugar
– Kids Booth
Vendors
Meet the family behind Elysium Soap, this week's featured vendor at the Saturday Farmers Market.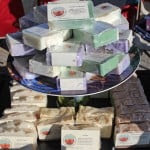 The Chelsea Farmers Market takes place each Saturday at the Palmer parking lot from 8 a.m.-1 p.m.
Each week, Chelsea Update is profiling one of its vendors.
Andi Philippe had been making soap for herself for about seven years when she came to the realization that a small batch was enough to last her for six months.  "I used to work at Whole Foods and bought soap there and still wanted nice soap when I left," she explained. Along with her husband, John Luther, the couple began selling the homemade soap at the Saturday farmers market this season at their booth, Elysium Soap.
They also sell lotion, lip balm, and bath balm.
"We love living within walking distance of the market," said Phillipe, who adds that they have been shoppers at the market for several years.
"Chelsea is a close knit community," said Luther. "Our kids have thrived here, and we've had a good experience at the market."
Below is the list of vendors who are expected to be there.
(Please keep in mind that sometimes the vendors aren't able to attend the market and that planned products are not available.)


Kapnick Orchards: Tart cherries, red raspberries, potatoes, baked goods, sweet cherries
Afeathermations: Natural media crafts for ceremony and celebration. Bark art, wall hangings, medicine wheels, heal-the-earth wreaths, fans, rattles.
Fluffy Bottom Creamery: sheep's milk cheeses and yogurt
Country Hills Pottery: pottery
Fluffy Bottom Creamery: artisanal yogurt and cheese
Chandra June: jewelry
Debbie's Bead Design: jewelry
Two Tracks Acres: breakfast sausage, Italian sausage, chorizo, pork chops, ribs, polish sausage, pork roasts, ground pork, chicken
Goetz Greenhouse: Swiss chard, kale, sweet onions, beets, cucumbers, hoop house tomatoes, lettuce, fresh basil, sugar snap peas, shell peas, broccoli, zucchini, yellow squash, free range eggs, radishes, herbs, flower bouquets, hanging baskets
Lands of Bru-Garick: eggs, red romaine lettuce, potatoes


Stone Hearth Bakery: bread, cookies – check out the new sugar cookies, brownies
Heim Gardens: asparagus, kohlrabi, strawberries, edible pea pods, radishes
Frog Hollar: Michigan sweet cherries, blueberries, tomatoes, red potatoes, green onions, radishes, kale.
Dave's Honey: honey
HumusFilafil: hummus and falafel
Fresh: fresh roasted coffee
La Baguette: baked goods, baguettes
Bean Creek Cookie Company: old fashioned cookies made from scratch, light and fluffy caramel corn
Thistle Blossom Herbals: Salves, infused herbal medicine oils, moisturizer oils and lotion bars and our famous lavender linen spray
Bordine Farms: flower bulbs, plants


Brieland Shoultz: eggs, vegetables, soap, jam
Elysium Soap: soap, lotions, lip balm
Herbology Organics: all natural, eco-friendly and sustainably sourced Apothecary items that are custom infused with therapeutic grade Essential Oils, Botanical's and Extracts, ranging from Personal Bath and Body Care items, to Home and Pet Care products.
Robin Hills Farm: collard greens, chrysanthemum greens, sunflowers, pasture raised chickens
Tantre Farms: strawberries, root cellar potatoes, green onions, summer onions, kale, arugula, rutabaga, lettuce mix, head lettuce, snap peas, shelling peas, spinach, collards, zucchini, radishes, white turnips, garlic, carrots, summer squash, asparagus, kohlrabi, mushrooms, fava beans, Swiss chard, broccoli
Heaven's Gate Soy Candles: Soy Candles
There are several types of bread to be found at the market, too.
Mostly Green Acres:  Eggs from free range hens, fed only soy-free, organic feed; Whole Chicken – Pastured and fed only soy-free, organic feed; Pork, fresh and smoked cuts – Pastured and fed only soy-free, organic feed
Dancy's Fancy Butter: assorted flavors of butter
The Barn: rustic benches from reclaimed barnwood
H and H Sugarbush: maple syrup and maple syrup products.
Blue Moon Signs: hand painted signs
Smith's Daylilies: daylilies and hostas