Items from Affeathermations will be at the Chelsea Winter Farmers Market this Saturday.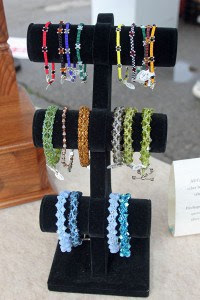 The Saturday Winter Farmers Market takes place from 9 a.m.-1 p.m. inside the cafeteria at the Washington Street Education Center.
Below is a list of vendors who are expected to be there.
*Thanks to Chelsea Update for content and pictures
Kapnick Orchards – Apples, cider, baked goods, fudge.
Debbie's Bead Design – handmade jewelry
Affeathermations – Natural media crafts for ceremony and celebration. Bark art, wall hangings, medicine wheels, heal-the-earth wreaths, fans, rattles and owls.
Country Hills Pottery – pottery
Mostly Green Acres – soy free, organic fed free range chicken eggs, chicken, grass fed beef
Bean Creek Cookie Co – old fashioned cookies made from scratch, caramel corn
Brieland-Schoultz – soap, eggs, jam


Marks Farm – Winter squash, kale, cabbage, potatoes, onions, broccoli, sweet potatoes, other produce
Golden Fleece – grass fed beef, eggs, lamb
Thistle Blossom Herbals – Products to heal and sooth – Boo Boo Fix It, Lavender Linen spray, herbal balms, infused oils and moisturizing – alcohol free hand sanitizer.
Stone Hearth – assorted artisan breads all baked from scratch with no preservatives, hot dog buns, cookies, brownies, fruit breads including red raspberry, strawberry, blueberry, apple, cinnamon raisin, 4-cheese pepperoni rolls
Lands of Bru-Garick – eggs, quilted bags, hand-made goods
Simply Gourmet Fresh Salsa and Tortilla Chips – fresh and canned salsa, tortilla chips, queso dio, bacon dressing, ready to eat items
Myer Jam – jams and jellies
Fluffy Bottom – cheeses
Humus Falafil – falafil sandwiches, baklava, hummus
Finding the Trail Home-Brewed Soap – bath soaps
JK's Jewels – jewelry
SPECIAL EVENTS:
THIS WEEKEND! Chelsea Farmers Market is hosting a CSA Fair. It's FREE to attend and you'll learn about tons of amazing local food options! Also, we have prizes: plates, maple syrup, farmers market bags and t-shirts. Come on out to the Chelsea First United Methodist Church, Sunday 1-3 pm, and meet your friendly neighborhood farmer to learn about all the CSAs we have to offer.
We are seeking someone to work this summer on the Intergenerational Garden, Kids Gardening booth at Chelsea Market and Kid booth at Manchester Market. Click here for details.
onions and other veggies