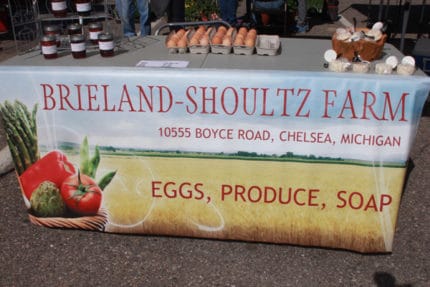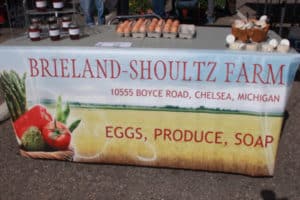 Don't forget it is fair week (which means I am writing this and not the lovely Lisa from Chelsea Update) and a family- fun parade starting at 1pm. This means that some of our vendors will pack up early to beat the road closures or just enjoy the parade too! Parking for the market should still be accessible on Park St. and in the lot behind the Purple Rose between 8 am and noon.  
Our vendors work very hard and are amazing! That said, they sometimes have emergencies or other things that keep them from attending market or bringing what they thought they were going to be able.
Judy Radant will be cooking up a tasty eggplant recipe at our food demo. This is the last week to check out the kids tent activities – thank you Anna! – but never fear, our story time from 9-9:30 will continue through October!
Musical guest this week is Bill Personke.
With no further ado…
Kapnick Orchards: peaches, apples, berries, baked treats, nut butters, potatoes, green beans and more
 Brieland Shoultz: eggs, summers squashes, heirloom tomatoes, jams and jellies
Dave's Honey: eggs and honey; try his special cinnamon honey drink!
Yum and Crum: delicious homemade bagels of all flavors!
Elysium Bath and Body: bath bombs, handmade soaps, lip balms and lotions
Jacob's Fresh Farm Shares: eggs, fresh seasonal veggies, honey
Goetz: fresh amazing seasonal veggies and flowers!
Thistle Blossom: healing salves, boo-boo sticks, and more!
Bean Creek Cookie Co.: chocolate macaroons, caramel corn, plus a delicious variety of other amazing cookies
La Baguette: french baking at it's finest
Country Hills Pottery: practical and gorgeous hand thrown pottery
Fluffy Bottom: yogurt, cheese
Bristle Handmade and Homegrown: seasonal veggies and crochet items
Pat-A-Cakes: delicious gluten free baked goods and flour mixes
Tantre: Organically grown seasonal veggies, fruits
Heim Gardens: seasonal fruits and vegetables
Merkel Gardens: beautiful plants, flower bouquets, fresh veggies
Myer Jam: homemade jams and dog treats
Stone Hearth Bakery: an assortment of breads, sweet cinnamon rolls, cookies and pepperoni rolls!
Fresh: locally roasted (and delicious) coffee
Two Tracks Acres: sustainably raised vegetables, grass fed beef, chicken and pork