It is that time of year when it feels challenging to find the most appropriate recipes to our seasonal veggies. Here is a  delicious recipe that will make your mouth and bellies really happy…
roasted beet and kale salad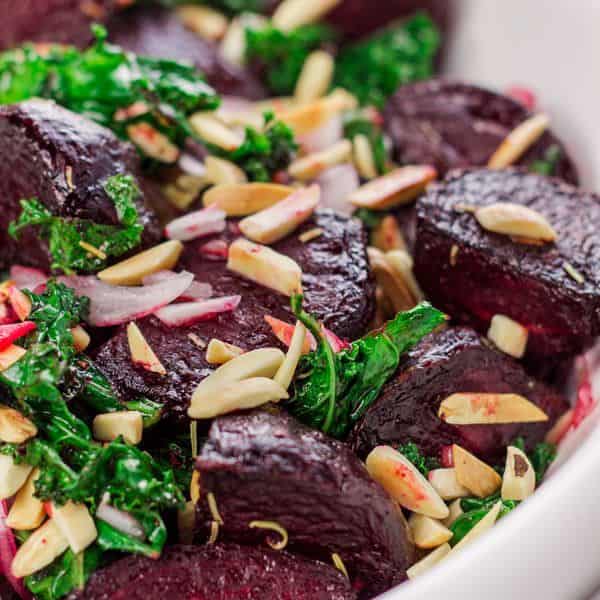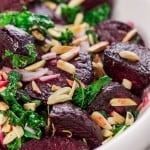 Author: The Mediterranean Dish
Prep Time: 20 mins
Cook Time: 50 mins
Total Time: 1 hour 10 minutes
Yield: 6
Category: Salad
Cuisine: Mediterranean
ingredients
1 bunch kale, washed, dried, ribs removed, roughly chopped
6 beets, washed, dried and peeled
1/2 tsp dried rosemary
1/2 tsp garlic powder
salt and pepper
olive oil
1/4 medium red onion, thinly sliced
1-2 tbsp slivered almonds, toasted
lemon-honey vinaigrette
1/4 cup olive oil
1 1/2 lemon, juice of
1/4 cup honey
1/4 tsp garlic powder
1 tsp dried rosemary
Salt and pepper
instructions
Preheat oven to 400 degrees F.
Prepare ingredients as indicated above.
Toss kale with salt, pepper and a little olive oil. Place on a lightly oiled baking sheet. Roast in oven for a brief five minutes. Remove from heat and set aside.
Take peeled beets and cut them into 1 1/2 wedges. Place on a lightly oiled baking sheet. Sprinkle with rosemary, garlic powder, salt and pepper. Toss with a little olive oil making sure beets are well-coated with the olive oil and spices.
Place the beets on the middle rack of the 400 degrees F-heated oven. Roast for 45 minutes, tossing/turning beets twice.
While beets are roasting, make the lemon-honey vinaigrette. Simply mix vinaigrette ingredients in a small bowl, whisk to combine. Set aside.
When beets are tender to your liking, remove from oven and let them cool slightly.
In a medium salad bowl, combine kale, beets and sliced red onions. Dress your salad with the lemon-honey vinaigrette, and toss together. Garnish with the toasted slivered almonds. Enjoy!