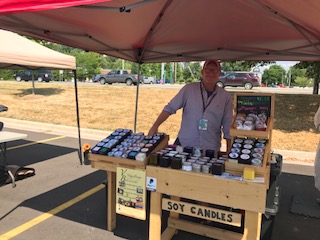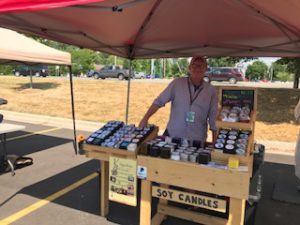 GREETINGS!
The market is held from 8am-1pm*** in the municipal lot adjacent to the First United Methodist Church on Park St. There is plenty of parking both on the street and in the lot behind the Purple Rose Theater.
***NOTE: it is fair week. That means that the parade will block off access to all the side streets surrounding the market at noon. Market vendors have the option of closing down early to avoid being stuck in town until after the parade. Come early to get your goodies!
Children's Tent activity will run from 9:30-12:30 and will be a lesson on Sugar with Miss Jill. Come see what she has to share!
The Ann Arbor Symphony Petting Zoo  will take place this week. Come and have your kiddo explore the feel and sounds of various instruments. There will be a short performance as well
I won't always know exactly what these amazing vendors will have and sometimes unforeseen circumstances require flexibility and understanding, but this week we expect to see:
GARY'S GRANOLA AND CONCRETE PRODUCTS:  New! homemade granola and a variety of garden art, pots and more
TANTRE FARM: Beans (purple & green), beets, berries, broccoli, carrots, cucumbers, eggplant, garlic, kale, leeks, lettuce, onions, potatoes, summer squash, tomatoes, watermelon (red & yellow), zucchini (yellow & green), and lots of fresh herbs like basil.
KAPNICK ORCHARDS: seasonal fruit, nut spreads, sweet bread, cherries, potatoes, beans, apricots, peaches, berries and more!
LAKE HOUSE BAKERY: Cookies, bread, muffins, cupcakes, crackers/bread sticks, cinnamon rolls, sticky buns, hand pies, croissant
LAKE DIVIDE FARM: certified organic vegetables, fruit and transplants
BRIELAND SHOULTZ: produces free range eggs, pesticide free vegetables, fruit jam and goats milk soap
GOETZ GREENHOUSE: seasonal veggies grown with natural practices on their Centennial Farm! Sweet corn, beans, tomatoes, kale, swiss chard, broccoli, cucumbers, zucchini, yellow squash, fresh basil, fresh cut FLOWERS!, free range eggs, cabbage, onions, potatoes, kohlrabi, beets
(weather permitting) AFFEATHERMATIONS: Handmade and nature based wands, burn bundles and art for celebration and ceremony
JACOB'S FRESH FARM SHARES: seasonal veggie, local honey and eggs
FLUFFY BOTTOM FARM: nice variety of cheeses and yogurt
HEIM GARDENS: perennials, annuals, hanging baskets, custom planters, seasonal mixed vegetables
MERKEL GARDENS:
Annuals, veggies, cut flowers and more!
(maybe) MYER JAM: tasty homemade jams and jellies, crocheted items and dog treats
VOUGE-BOOGE: soy candle company with a variety of scents and sizes
LA BAGUETTE: baguettes, rye-sesame boules, madeleines, gateau Breton, torta, tartelettes, gluten free chocolate chip cookies
HANDMADE AND HOMEGROWN: knit items and seasonal veggies – raspberries!
TWO TRACKS ACRES: pork, beef, chicken and seasonal vegetables
fresh: 
delicious whole coffee beans and drip
BORDINE FARMS: dahlia plants
Thanks so much and see you there!