Greetings All!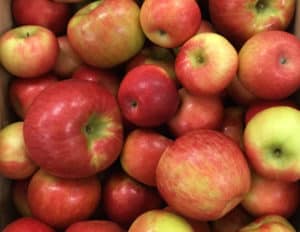 I sure hope that you all had a delicious Thanksgiving; holding gratitude for all that surrounds you and your life.
It is SMALL BUSINESS Saturday! Come to the market to support the local economy, entrepreneurial spirit, and get some amazing gifts for your special people.
We are very pleased to be at 500 Washington St., building 100, in the cafeteria from 10am -2pm (note the time change) each Saturday from now until the 29th of December.

Parking at the front of building 100 (near the Seniors Center entrance) and also off of Book St. is plentiful. There will be LIVE music each week from 11am -1pm and as always plenty of hot delicious coffee!
This week you can expect to find:
Musical Guest: Mixed Nuts
TANTRE FARM: seasonal organically certified vegetables
KAPNICK ORCHARDS: apples, apple cider, doughnuts, nut butters, sweet and savory breads and more.
MARKS FARM; lots of season veggies and closer to the holidays wreaths and garland
JACOB'S FRESH FARM SHARES: local honey, maybe eggs
AFFEATHERMATIONS: nature inspired art  – from smudge sticks, to celebration wands, to chakra dream catchers.
LAKE DIVIDE FARM: **on a much needed break from markets – will return next week!
CHEESE PEOPLE: a Wednesday regular has a cheese for every occasion
BRIELAND SHOULTZ: eggs, jam, goat milk soap, seasonal pies, seasonal veggies, sourdough bread
GOLDEN FLEECE FARM: pasture raised beef and eggs
TIANI BODY CARE: delicious body care products made with love; lip balm, hand salve, body lotion, foaming and bar soaps
BEAN CREEK COOKIE CO: Betty is with us again with her tasty sweet treats from cookies to her famous nuts and bolts mix.
LA BAGUETTE: your favorite french bakers are once again bringing their delicacies to the market
VOGUE BOOGE: soy candles in a wonderful variety of styles and sizes and especially scents!
THISTLE BLOSSOM HERBAL: Denise will have her linen sprays, hand salves, boo-boo sticks (crucial medicine cabinet component of mine), and more
GARY'S GRANOLA AND CONCRETE CREATIONS: homemade granola and ceramic planters
FERAL DAUGHTERS FARM: sustainably raised beef, pork, chicken and eggs
BRISTLE'S HANDMADE AND HOMEGROWN:
handmade knit items and more
See you out there!