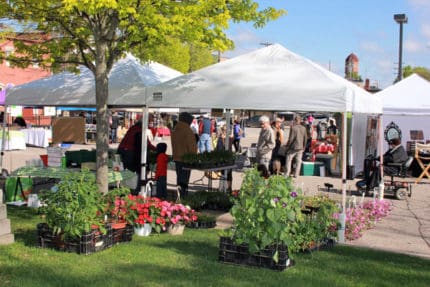 Although this image does not exactly represent what our market opening will look like this Saturday, it is a reminder of what we can aspire toward and an opportunity to reflect, with gratitude, on the great gifts that are our farmers, vendors, artisans, food hubs, community supporters and YOU.
Online sales are OPEN! Yeah! What doesn't bend breaks, right? We are adaptable and I am pleased that we are able to move toward a new platform to offer you as many of your favorite vendor's products each week despite restrictions. *note that not all Chelsea Farmers Market vendors are able to participate in online sales at this time. You can be sure to look for the selection of vendors to continue to grow each week! Some have their own website sales. Click here to order Goetz Greenhouse transplants and bedding plants to be delivered Saturday to market.
Here's the lowdown. This is our compromise for now. We plan to open for safe social distancing, strict adherence to the Governors Executive Orders and onsite sales with vendors as soon as June 6th when the City Council will review, again, our ask to open.
How to Order
Click here to access vendors products for online orders to pick up on Saturday May 9th. Orders must be placed by 5:15pm on Thursday, May 7th.
Once your cart is full, check out as either a guest or create a profile for ease in future transactions.
Choose payment type – either exact change cash, credit card or SNAP. *NOTE that all payments will be made onsite at pick up, not online due to restrictions. It is expected that you will pick up and pay for your order or communicate with the market coordinator if unforeseeable circumstances do not allow it. You may be charged for your order if you do not pick it up and the food will be donated to Faith in Action.
When you pick up on Saturday, follow signs to enter safely into the parking lot at Palmer Commons and park your vehicle.
A staff member or volunteer will approach your car and you can either hold up a sign with your name on it or roll down your window to state your name. Please have payment ready.
We will take your payment, retrieve your order and put it in the back of your vehicle.
Presto! You will be on your way with your favorite goods from your most loved vendors.
Having Trouble Ordering Online?
We are open to email and phone orders if you are having trouble with Open Food Network or have any questions. Please reach out to: [email protected] or call 734-593-6806.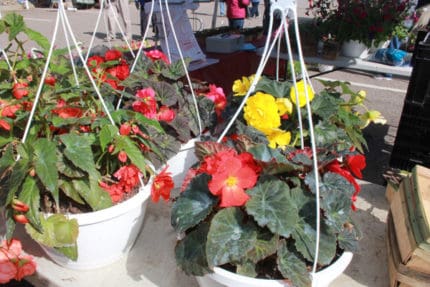 What's Next?
There will be bi-weekly order cycles for both Saturday and Wednesday markets. Look for Wednesday ordering information on Friday this week. And for a complete guide and reference on how to use our online system and where to find other vendors whose products are for sale online, check back on our website soon for updates.
We deeply care about your health and safety. All staff and volunteers will have access to appropriate PPE (masks, gloves when appropriate, access to hand washing stations and health screening).
We look forward to continuity in bringing you the best – for your health, for our community, and for our local food systems!
Happy Spring!
Emily