Healthy Fair Food Remakes
We know what you are thinking – there is no such thing as healthy fair food!  Usually, I would agree, but being the farmers market, we thought we should at least try to remake your favorites with a healthy twist.  While there's nothing wrong with a special occasion treat, we've come up with some creative alternatives to help you feed your fair food cravings all year long.  Enjoy the Chelsea Community Fair, and come visit the farmers market right down the road Wednesday to see some prize winning produce and homemade goods of our own!
Cherry Popcorn Balls
Ingredients:
6 cups popcorn or kettlecorn (Goodtimes Kettlecorn is great in this!)
2/3 cups mini marshmallows
1 Tbsp. canola oil
2 Tbsp. pureed cherries
3 Tbsp. dried cherries
Mixed nuts (we suggest from Janet's LLC)
Directions:
Place 6 cups of air-popped popcorn in a large bowl and set aside. In a large saucepan, place 2/3 cup mini marshmallows and 1 tbsp. canola oil. Cook over low heat, stirring constantly, until the marshmallows are melted. Add 2 tbsp. of pureed cherries and 3 tbsp. dried cherries. Pour the liquid over the popcorn and toss gently to coat. Allow to cool for about 5 minutes. Using greased hands, form the mixture into balls about the size of a baseball. This recipe makes about 6 popcorn balls (we recommend the Bushel Basket Market's Kettlecorn, and cutting down the mini marshmallows to reduce sugar).
*One serving serving of kettle corn popcorn — about 1 to 2 cups — contains anywhere from 15 to 150 calories. A serving also has up to 18 g carbohydrates, 7 g protein, 8 g fat and 250 mg sodium.
Read more: http://www.livestrong.com/article/413816-healthy-popcorn-balls/#ixzz2cWMaN7ft
Baked Corn Dogs
 Ingredients:
2 boxes corn muffin mix, 8 1/2 ounces each (recommended: Jiffy brand)
1 cup all-purpose flour
2 eggs
3/4 cup milk
1/2 stick butter, melted
1 tablespoon chili powder, eyeball it in your palm
2 teaspoons cumin, eyeball it
2 teaspoons cayenne pepper sauce (recommended: Tabasco or Frank's Red Hot
2 scallions, finely chopped
8 jumbo pork or beef brats (we suggest some from Golden Fleece Farms)
Sweet Relish Slaw Salad, recipe follows
1 bag reduced fat potato chips (recommended: Cape Cod brand or Terra brand Garlic and Onion flavor Yukon chips)
Directions:
Preheat oven to 425 degrees F.
In a shallow dish, combine muffin mix with flour, then stir in eggs, milk and melted butter. Season the mix with chili powder, cumin, cayenne and scallions. The batter will be a thick, sticky biscuit dough. Place a hot dog in the bowl of batter and swoosh it around to coat it. Remove coated dog to a nonstick cookie sheet and use your fingers to spread batter on any exposed dog spots. Don't coat it too thick, just shy of 1/2-inch should do the trick. If it's too thick it will just slide off the dog while it's baking, leaving the dog exposed. If that happens don't sweat it, they will still taste great. Repeat until all 8 are coated. Bake 12 to 15 minutes or until evenly deep brown all over.
Sweet Relish Slaw Salad:
1 cup sweet pickle relish
1/4 cup cider vinegar, eyeball it
3 tablespoons vegetable oil, eyeball it
2 large cloves garlic, crushed
2 bay leaves, dried
3 whole cloves
1 pound shredded cabbage, sliced thinly (we recommend Marks Farm and Greenhouse cabbage)
Salt and pepper
4 scallions, sliced
In the bottom of a medium, shallow bowl combine relish, vinegar, oil, garlic, bay and cloves. Let stand 5 minutes then fish out the garlic, bay and cloves. Add cabbage salad and toss, let stand 10 to 20 minutes in the refrigerator. Season salad with salt and pepper, toss in the scallions then serve.
Serve the oven baked corn dogs with your favorite hot dog condiments. Serve with Sweet Relish Slaw Salad and with some baked or reduced-fat chips alongside the dogs.
Market Basket Giveaway!
We'll be giving away a few of the ingredients and more featured in this week's recipes – come before 5:00 to get entered in the drawing!
We are happy to accept two new programs at the Bushel Basket:
Prescription for Health (starting July 16th), and the Supplemental Nutrition Assistance Program (also known as Bridge Cards)
For more information on Prescription for Health: Visit
Faith in Action
and the
Prescription for Health
websites!  We'll have healthy market recipes available to inspire you as you fulfill your Prescription for Health goals.You can also visit the market information table for specifics on the programs!
One of the highlights of my childhood was going with my parents to street fairs and carnivals. My dad made it a point that we try everything from the gyros to Polish sausages to caramel apples. By the time we rolled home, we were all moaning and groaning from stomach aches. Here's how to enjoy those old favorites, sensibly.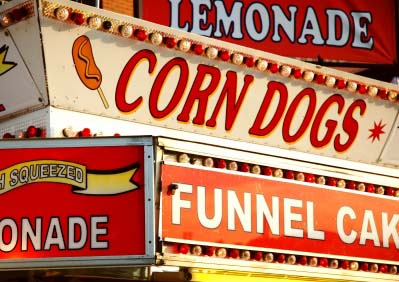 Deep-Fried Fest
Most fairs have no shortage of deep-fried foods. Aside from the traditional French fries and fried dough, I've heard of deep fried Twinkies, cheesecake, pickles, candy bars, cookies, macaroni and cheese, butter and brownie bites. You don't have to be a health guru to know that deep fried anything isn't the healthiest choice Other high-fat foods offered at fairs include gyros, curly fries, corn dogs, caramel apples and corn on the cob (usually smothered in butter). Although utterly delicious, eating more than your share of these foods will lead to calorie and fat overload. Check out the calories on some of these fair faves:
Giant turkey leg: 1,136 calories, 54 gram fat
Funnel cake (1 cake): 760 calories, 44 grams  fat
Fried cheesecake (6 ounces): 655 calories, 47 grams fat
Foot-long hot dog and bun: 470 calories, 26 grams fat
Fried Snickers (5 ounces): 444 calories, 29 grams fat
Cotton candy: 171 calories, 0 grams fat
Healthier Options
Most folks who go to a fair want to indulge in some goodies. But if you're looking for a healthier option, sometimes you just need to settle for the least offensive food. In this case, cotton candy and caramel apples are some of the better choices –as is corn on the cob (sans the mounds of butter). Keep your eyes peeled for fresh fruits and veggies, pickles and lean cuts of meat.
Here are some tips to help you navigate the fair without falling trap to the plethora of heart-clogging foods lining the streets.
Eat before you go: If you go hungry, you'll be more likely to grab every deliciously greasy food in site. Better choices are made on a full stomach.
Go early: Arrive before all the enticing aromas draw you in.
Avoid grazing: Don't take a little taste from every booth. Before you know it, you'll rack up more calories than you need in one day.
Scout before buying: Walk around and decide which two or three foods you'll order.
Share: The portions at most fairs were made for sharing.
Get a little exercise: Take a stroll around the area during or after the fair. Come prepared by wearing sneakers or other comfortable shoes.
New Vendor Offerings this Week:




Seasonal Vendors
Unfortunately, we had to say goodbye to TJ Farms and Dave Barkman at the farmers market, so no more perennials at the farmers market this week.  We also had to say goodbye to Mildred Parker for the season, who is taking some time to recover from illness at home. aLive Bakery is also taking a hiatus from the market to work on their product line – stay tuned!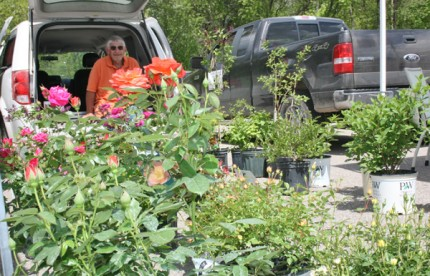 Thanks for your time with the Bushel Basket Market Dave – you will be missed!
This week, we are welcoming a special program from St. Joe's hoophouse to the market – an agritherapy and work-life proram for brain injury patients.  Please say hello to this new vendor – The Farm at St. Joe's!
* Ingredient for In-Season Recipe
Duane Bordine of Bordine's Farm:
Bouquets of cut snapdragons, zinnias and pin cushions plus stems of gladiolas.  NEW!
Golden Fleece Farm, LLC:
Grass fed beef products including ground beef, ground round, rib steaks, T-bone steaks, sirloin steaks, hamburger patties, *
beef brats
, Italian sweet sausage, soup bones, grass fed chickens raised on organic corn, soy-free feed (no GMO) at 3.5-4.5 pounds at $5 per pound.
Good Times Kettle Corn:
 *
kettle corn in small and large bags
.
Greystone Creamery:
feta, possibly ricotta, Man-chel cheese, possibly cow Gouda, Chelsea-cam, Rosy-cam, blue Man-chel, sheep Gouda, butternut, garlic pepper and plain cream cheese.
Janet's LLC:
grilling rubs, jam, *
flavored nuts
, suckers, spices to make flavored butter, U-M and MSU dolls, and greeting cards, dry grilling rubs for all meat, chicken, pork or fish.
Kapp Farms
:  baked goods, pretzels and rolls, hot and olive twists, crispy treats, cinnamon rolls, zucchini, cherry tomatoes, basil, green beans, kale and cukes.
Kapnick Orchards: 
Kapnicks will have Red Haven n Flaming Fury peaches. Nectarines, Paula Red Apples, Black berries, Plums and baked goods
Kniffen Famly Farms:
eggs, whole and half chickens. NEW!
Lutchka Angus and Farm Market: 
*
sweet and cooking onions
, eggs, kale, zucchini, summer squash, jalapenos, red and yellow potatoes, hot and sweet peppers, cabbage, cucumbers, corn, eggplant, zinnias, sunflowers, apples.
Mark's Farms and Greenhouse:
maple syrup, kale, chard, beets, green and sweet onions, broccoli,
*cabbage
, zucchini, carrots, cabbage sprouts, cantaloupe, green and yellow beans, new, red, Yukon, gold and white potatoes, peppers, tomatoes and corn.
Mama Mo: 
hummus and seitan. Hummus flavors include ginger squash, tan/cran orange, sesame chive satay, kalamata rosemary, black pepper walnut, roasted pepper, horseradish, roasted garlic, traditional, lemon zest, curry lime, tomato basil, onion dill, roasted beet, wasabi, jalapeno, chipotle. Seitan flavors include: nuggets, traditional, fajita strips, Italian fennel sausage, breakfast sage sausage, vegan BBQ, BBQ, roast.
Oak Hill Farm:
honey, bee pollen, lotion bars, candles, gift bags with assorted honey products.
Pregitzer Farm Market, LLC: 
CSA pick-up, annuals in baskets, broccoli, summer squash, zucchini, kale, cabbage, cukes, eggplant, sweet corn, green beans, cauliflower, canning pickles.
Stone Hearth Breads and Bakery:
pumpernickel, German rye and German rye seeded, Italian Milano, honey whole wheat, San Francisco sourdough, assorted cookies and buns, four-cheese pepperoni rolls, spinach feta cheese bread, multi-grain bread, country loaf, cheese bread, rosemary herb and tomato basil bread, four-cheese bread sticks, jalapeno cheese bread and assorted sweet breads — including cinnamon, cinnamon raisin, strawberry white chocolate, peach pecan, wild blueberry cream cheese, Reuben rolls, and bacon cheddar beer bread.
Sprouted Alive Bakery: 
whole grain, raisin, sprouted and gluten-free bread (temporarily on hiatus to redevelop product)
The Farm at St. Joe's: 
Assorted produce from the accessible hoophouse at St. Joseph Mercy Hospital – Check out the video below for more information on this wonderful program!
The Farm at St. Joe's Video
————————————————————————————————————
For all the best in-season, summertime foods and recipes, stay tuned for the weekly installments of the
Bushel Basket Newsletter