Summer Salad Days  
Labor Day Picnic Salads:  Tomatoes
This week's newsletter is themed around easy picnic salads, featuring the end-of-summer favorite, tomatoes.  Tomatoes, which are actually a fruit and not a vegetable, are loaded with all kinds of health benefits for the body. They are in fact, a highly versatile health product and due to their equally versatile preparation options, there's really no reason to neglect the tomato as part of a healthy diet   
One of the most well known tomato eating benefit is its' Lycopene content. Lycopene is a vital anti-oxidant that helps in the fight against cancerous cell formation as well as other kinds of health complications and diseases.
Free radicals in the body can be flushed out with high levels of Lycopene, and the tomato is so amply loaded with this vital anti-oxidant that it actually derives its rich redness from the nutrient.
Lycopene is not a naturally produced element within the body and the human body requires sources of Lycopene in order to make use of this powerful anti-oxidant. While other fruits and vegetables do contain this necessary health ingredient, no other fruit or vegetable has the high concentration of Lycopene that the tomato takes pride in.  Tomatoes also boast high levels of vitamin C (Don't forget the green ones – try a pan "fried" green tomato salad too)!
Here are a few of our favorite healthy recipes from the south and southwest – enjoy the last hot days of summer with local salads!
Southwestern Black Bean Salad
Ingredients
3 large ears of corn, husked
1/3 cup pine nuts
1/4 cup lime juice
2 tablespoons extra-virgin olive oil
1/4 cup chopped fresh cilantro
1/2 teaspoon salt
Freshly ground pepper, to taste
2 15-ounce cans black beans, rinsed
2 cups shredded red cabbage, (see Tip)
1 large tomato, diced
1/2 cup minced red onion
1 head butter lettuce, town into bite size pieces
Preparation
Bring 1 inch of water to a boil in a Dutch oven. Add corn, cover and cook until just tender, about 3 minutes. When cool enough to handle, cut the kernels from the cobs using a sharp knife.
Meanwhile, place pine nuts in a small dry skillet over medium-low heat and cook, stirring, until fragrant and lightly browned, 2 to 4 minutes.
Whisk lime juice, oil, cilantro, salt and pepper in a large bowl. Add the corn, pine nuts, beans, cabbage, tomato and onion; toss to coat. Refrigerate until ready to serve on top of torn lettuce.
Nutrition Facts Per Serving (4 Servings): 410 calories; 16 g fat ( 2 g sat , 8 g mono ); 0 mg cholesterol; 57 g carbohydrates; 0 g added sugars; 16 g protein; 13 g fiber; 477 mg sodium; 537 mg potassium.
Nutrition Bonus: Vitamin C (80% daily value), Iron (25% dv), Vitamin A (20% dv), Potassium (15% dv).
Recipe From:  http://www.eatingwell.com/recipes/southwestern_corn_black_bean_salad.html
Pan-Seared Pork & Fried Green Tomato SaladIngredients
1 pound pork tenderloin
Salt and ground black pepper
1/2 cup cornmeal
1 egg, well beaten
2 small green tomatoes, sliced 1/2-inch thick
2 tablespoons olive oil
1 cup watercress
2 ounces crumbled blue cheese
1/3 cup bottled sweet and sour sauce (or red pepper jelly, warmed, and mixed with 1 to 2 Tbsp. cider vinegar)
Preparation1. Slice tenderloin crosswise in 12 slices. Slightly flatten with palm of hand. Sprinkle with salt and pepper.2. In shallow dish, combine cornmeal, 1/2 tsp. salt, and 1/2 tsp. pepper. Place beaten egg in second shallow dish. Dip tomato slices in egg, then coat in cornmeal mixture; set aside.3. In 12-inch skillet heat 1 Tbsp. oil over medium-high heat. Cook pork for 3 minutes each side, until golden brown on outside and slightly pink inside. Transfer to platter; cover to keep warm.4. Add 1 Tbsp. oil to skillet. Cook tomato slices for 2 to 3 minutes each side until golden, adding oil if necessary. Serve pork and tomatoes with watercress and blue cheese. Drizzle sweet and sour sauce.
From the Test KitchenChange Up:
Use breadcrumbs in place of cornmeal to coat tomatoes and replace blue cheese with shaved Parmesan cheese.
Nutrition Facts Per Serving:
cal. (kcal) 354, Fat, total (g) 16, chol. (mg) 113, sat. fat (g) 5, carb. (g) 22, Monosaturated fat (g) 8, Polyunsaturated fat (g) 2, Trans fatty acid (g) 0, fiber (g) 2, sugar (g) 6, pro. (g) 29, vit. A (IU) 777, vit. C (mg) 15, Thiamin (mg) 1, Riboflavin (mg) 1, Niacin (mg) 8, Pyridoxine (Vit. B6) (mg) 1, Folate (µg) 52, Cobalamin (Vit. B12) (µg) 1, sodium (mg) 918, Potassium (mg) 820, calcium (mg) 162, iron (mg) 3,
Percent Daily Values are based on a 2,000 calorie diet
Recipe From: 
http://www.bhg.com/recipe/pan-seared-pork-fried-green-tomato-salad/
 We are happy to accept two new programs at the Bushel Basket:
Prescription for Health (starting July 16th), and the Supplemental Nutrition Assistance Program (also known as Bridge Cards)
For more information on Prescription for Health: Visit
Faith in Action
and the
Prescription for Health
websites!  We'll have healthy market recipes available to inspire you as you fulfill your Prescription for Health goals.You can also visit the market information table for specifics on the programs!
Labor Day Picnic Ideas
This labor day weekend, take a hike!  A new tradition might form – join the Healthy Communities Walking Program this weekend on Monday, September 2nd, at the Eddy Discovery Center at 10:00 am (registration 9:30) for their Annual Labor Day Walk!  We've included a few more late-summer, no-cook salads featuring ripe tomatoes to bring to a picnic at the park:
5-Minute Salad: Goat Cheese, Herb and White Bean
Panzanella Salad
8 ounces stale bread (3 to 4 days old), sliced*

Cold water, as needed

4

vine-ripened

tomatoes

or Roma tomatoes, chopped

1

small red

onion

, chopped medium fine

1 European cucumber, halved and sliced into half moons

Kosher salt and freshly ground black pepper
New Vendor Offerings this Week:




Seasonal Vendors
Stonehearth Bakery will not be with us for the next few weeks due to limited staff – we will let you know when they'll return.
* Ingredient for In-Season Recipe
Kapnick's Orchard: Blueberries, apples, peaches, plums, nectarines, raspberries, pears, several varieties of apples, fudge, *bread and baked sweet rolls.
Kapp Farms: baked goods, pretzels and rolls, cookies, bread twists, crispy treats, basil, cherry tomatoes, basil, green beans, kale and tomatoes.
Lutchka Angus and Farm Market: *sweet and cooking onions, kale, zucchini, summer squash, jalapenos, hot and sweet peppers, *cabbage, cukes, zinnias, sunflowers, *corn, eggplant, apples, cherry tomatoes, green beans.
Oak Hill Farm: honey, bee pollen, lotion bars, candles, cut comb honey, gift bags with assorted honey products.
Mark's Farms and Greenhouse: maple syrup, kale, chard, beets, *green and sweet onions, broccoli, cabbage, zucchini, five varieties of potatoes, corn, *tomatoes, peppers, carrots, cabbage sprouts, cantaloupe.
Golden Fleece Farm, LLC: Grass fed beef products including ground beef, ground round, rib steaks, T-bone steaks, sirloin steaks, hamburger patties, beef brats, Italian sweet sausage, soup bones, grass fed chickens raised on organic corn, soy-free feed (no GMO) at 3.5-4.5 pounds at $5 per pound.
Greystone Creamery: feta, possibly ricotta, Man-chel cheese, possibly cow Gouda, Chelsea-cam, Rosy-cam, *blue Man-chel, sheep Gouda, butternut, garlic pepper and plain cream cheese.
Pregitzer Farm Market, LLC: CSA pick-up, broccoli, summer squash, zucchini, kale, *corn, cabbage, cukes, eggplant, green beans, cauliflower, canning pickles, potatoes and perhaps watermelon.
Janet's LLC: grilling rubs, jam, flavored nuts, suckers, cajun butter, assorted fudge. spices to make flavored butter, U-M and MSU dolls, and greeting cards.
Mama Mo: hummus and seitan. Hummus flavors include ginger squash, tan/cran orange, sesame chive satay, kalamata rosemary, black pepper walnut, roasted pepper, horseradish, roasted garlic, traditional, lemon zest, curry lime, tomato basil, onion dill, roasted beet, wasabi, jalapeno, chipotle.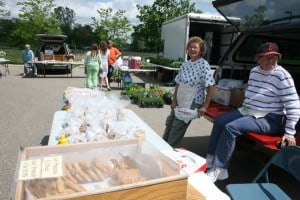 *Photo courtesy of Lisa Allmendinger with Chelsea Update
Seitan flavors include: nuggets, traditional, fajita strips, Italian fennel sausage, breakfast sage sausage, vegan BBQ, BBQ, roast.
Good Times Kettle Corn: kettle corn in small and large bags.
Bordine Farm: cut flowers, including zinnia, pin cushions, gladiola, snap dragons.
Kniffen Famly Farms: *eggs.
Enrichment Center: vegetables, candles, lip balms, lotions, bracelets, wooden toys, hand sanitizers, soaps, pens with decor that changes with the season. (And, these pens are really cute).  Enrichment Center Programs – for more details, please see their website here:  http://www.eisenhowercenter.com/enrichment-cente
————————————————————————————————————
Get to Know Your Vendor – Kapp Bakery and Farm
Every week until the end of the season, we'll feature one of the vendors in our newsletter, to get to know the people behind your food.
In 1919, Esther Kapp's family started their farm in Ann Arbor, named Maulbetsch Farm.  Her mother starting working at markets in Detroit at age 8, getting on a train in Ypsilanti to sell eggs at Eastern Market.  This was the beginning of a family business that spans three generations, and Esther (pictured above) has continued the tradition, selling at both the Ann Arbor Farmers Market in the past and the Bushel Basket Market since its beginning.  Esther added baking to her business back in 1950, starting with her famous pretzels, in addition to her seasonal vegetables.  The Farm has scaled back considerably, but Esther still sells what she produces in her garden, and sells a wide variety of baked goods that stem from her German heritage – truly home cooked garlic rolls, cookies and of course, the famous pretzels that started everythingn from her commercial kitchen.  Say hello to Esther at the next Bushel Basket Market, and maybe she will tell you some of her stories herself, or at least treat yourself to her delicious bakegoods and fresh garden produce.
For all the best in-season, summertime foods and recipes, stay tuned for the weekly installments of the
Bushel Basket Newsletter