With July 4th only a day away, most of us begin the frantic, last-minute shopping and preparation that always seems to go along with entertaining for any holiday! To make life a little easier, check out this week's crowd-pleasing, in-season recipe
Chicken & Blueberry Pasta Salad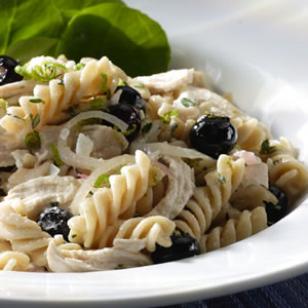 Nothing says summertime quite like a refreshing and flavorful dish of pasta salad! And with the in-season blueberries and shallots that top this lovely entree, friends and family can enjoy the bounty of summer.
But this dish boasts more than just seasonal produce appeal: as a recipe from EatingWell, it's also diabetes appropriate, low-calorie, low cholesterol, low saturated fat, and low sodium! Enjoy this meal guilt-free!
Nutrition Information:Per serving: 315 calories; 11 g fat ( 3 g sat , 6 g mono ); 49 mg cholesterol; 33 g carbohydrates; 0 g added sugars; 23 g protein; 5 g fiber; 238 mg sodium.
Ingredients
1/4 teaspoon salt
1 teaspoon freshly grated lime zest
1 tablespoon chopped fresh thyme
1 cup fresh blueberries
3 tablespoons lime juice
1/3 cup crumbled feta cheese  1/3 cup reduced-sodium chicken broth
1 large shallot, thinly sliced
3 tablespoons extra-virgin olive oil
8 ounces whole-wheat fusilli or radiatore
1 pound boneless, skinless chicken breast, trimmed of fat
Preparation
Place chicken in a skillet or saucepan and add enough water to cover; bring to a boil. Cover, reduce heat to low and simmer gently until cooked through and no longer pink in the middle, 10 to 12 minutes. Transfer the chicken to a cutting board to cool. Shred into bite-size strips.

Bring a large pot of water to a boil. Cook pasta until just tender, about 9 minutes or according to package directions. Drain. Place in a large bowl.

Meanwhile, place oil and shallot in a small skillet and cook over medium-low heat, stirring occasionally, until softened and just beginning to brown, 2 to 5 minutes. Add broth, feta and lime juice and cook, stirring occasionally, until the feta begins to melt, 1 to 2 minutes.

Add the chicken to the bowl with the pasta. Add the dressing, blueberries, thyme, lime zest and salt and toss until combined.
See More July 4th Inspired Dish Ideas and Recipes Below!
We are happy to accept two new programs at the Bushel Basket:
Prescription for Health (starting July 13th), and the Supplemental Nutrition Assistance Program (also known as Bridge Cards)
Please visit the market information table for specifics on the programs!
Healthy Hacks for A Healthy July Fourth!

 
Try These Healthy Alternatives to Our All-American Favorites
Read through these Main Dish, Side, and Desert alternatives and check out the special tips to make your July 4th barbecue a healthy and happy affair! Click on the title of each dish for more information including ingredient lists, preparation instructions and nutrition facts!
Main Dish Alternatives: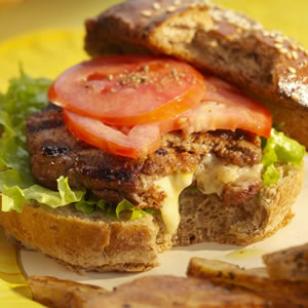 Inside-Out Cheeseburger: Keep the cheese and juicy patties, but trade in some of the calories and fat with this alternative dish!
Beer-Barbecued Chicken: Enjoy the popular poultry dish that all barbecue enthusiasts know and love, but by taking the skin off the chicken, you save a little on the calorie count and still get the delicious flavor!
Special Tips: Try a turkey burger or chicken sausage as an alternative for beef and pork: turkey and chicken are leaner meats, and will give you a healthy option without skipping out on your favorite summertime BBQ dishes!
Red, White and Blue Potato Salad: Ditch the predictable deli salads for a healthier, and tastier, barbecue alternative. Sticking with a vinaigrette will save on calories, fat and cholesterol, and give this summer staple a lighter taste.
Tex-Mex Summer Squash Casserole: This side dish is for those who want to turn up the heat at your July 4th event. With jalapenos and green chiles, you're guaranteed to spice up your barbecue! Of course, this recipe also fuels our love for summer veggies with one of our favorites: summer squash!
Special Tips: Use oil-based dressings on pastas and salads instead of going for creamy dressings and mayo. This allows you to cut back a significant number of calories and fat, as long as you don't over-compensate by adding extra! Add some of your favorite seasonal fruits and vegetables for color, and you'll also get some extra doses of vitamins and minerals, too!
Dessert Alternatives: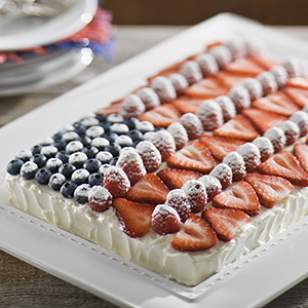 Raspberry Bars: This delicious dessert is not only satisfying, but healthier for you than some of the other dessert recipes out there! Using low-fat or skim milk and nonfat cream cheese allows for guilt-free enjoyment.
EatingWell Flag Cake: Keeping with the guilt-free holiday, this recipe uses low-fat Greek yogurt and reduced fat cream cheese so you can enjoy this patriotic cake without having to worry about your waist-line. The strawberries, blueberries and raspberries not only add color, but can also be used in our other recipes, too!
Special Tips: Try incorporating more fruit dishes – more natural dishes will give you the taste of sweetness you crave, without overloading your system!  Substitutes like Greek yogurt and non-fat/low-fat dairy products can help reduce some unwanted calories!
New Vendor Offerings this Week:


Seasonal Vendors
 * Ingredient for Recipies
Good Times Kettle Corn: kettle corn in small and large bags.
Kapnick Orchards: Cherries, raspberries*, snap peas, fudge and baked sweet rolls. (Blueberries coming soon, too.)
Sprouted Alive Bakery: whole grain, raisin, sprouted and low-gluten breads.
Kapp Farms: baked goods, pretzels, and rolls, hot and olive twists, cinnamon rolls, zucchini, snap peas, maybe radishes and spinach.
Lutchka Angus and Farm Market: onions, eggs, Bok choi, radishes, spinach, beets, herbs, snow peas, sugar snaps, kale, zucchini, summer squash*.
Oak Hill Farm: honey, bee pollen, lotion bars, candles, gift bags with assorted honey products.
Mark's Farms and Greenhouse: maple syrup, Bok choi, kale, chard, spinach, kohlrabi, beets, green onions, broccoli, lettuce, cabbage, sugar peas.
Golden Fleece Farm, LLC: Grass fed beef products including ground beef, ground round, rib steaks, T-bone steaks, sirloin steaks, hamburger patties*, beef brats, Italian sweet sausage, soup bones.
Greystone Creamery: feta, possibly ricotta, Man-chel cheese, possibly cow Gouda, Chelsea-cam, Rosy-cam, blue Man-chel, sheep Gouda, butternut, garlic pepper and plain cream cheese*.
Pregitzer Farm Market, LLC: Community Supported Agriculture (CSA) shares, baskets and planters.
Janet's LLC: grilling rubs, jam, flavored nuts, suckers, cajun butter, spices to make flavored butter, U-M and MSU "dammit dolls," and greeting cards.
T. J Farms: roses, lilacs, hydrangea and other perennials, nursery stock plants, trees and bushes.
Parker Kitchen: assorted bread, radishes, cookies, catnip toys, afghans and quilts, glasses for rednecks, summer squash.
Mama Mo: hummus and seitan. Hummus flavors include ginger squash, tan/cran orange, sesame chive satay, kalamata rosemary, black pepper walnut, roasted pepper, horseradish, roasted garlic, traditional, lemon zest, curry lime, tomato basil, onion dill, roasted beet, wasabi, jalapeno, chipotle. Seitan flavors include: nuggets, traditional, fajita strips, Italian fennel sausage, breakfast sage sausage, vegan BBQ, BBQ, roast.
Stone Hearth Breads and Bakery: pumpernickel, German rye and German rye seeded, Italian Milano, honey whole wheat, San Francisco sourdough, assorted cookies and buns, four-cheese pepperoni rolls, spinach feta cheese bread, multi-grain bread, country loaf, cheese bread, rosemary herb and tomato basil bread, four-cheese bread sticks, jalapeno cheese bread and assorted sweet breads — including cinnamon, cinnamon raisin, strawberry white chocolate, peach pecan, wild blueberry cream cheese, Reuben rolls, and bacon cheddar beer bread.
————————————————————————————————————
For all the best in-season, summertime foods and recipes, stay tuned for the weekly installments of the
Bushel Basket Newsletter