Featured vendor: The Bean Creek Cookie Company

A sampling of a few of the Bean Creek Cookie Company offerings.


Bean Creek Cookie Company cookies.
By Lisa Carolin
The Saturday Chelsea Farmers Market is open from 8 a.m.-1 p.m. in the Palmer lot, and this year, in addition to the vendor listings, Chelsea Update is profiling individual vendors.
Cookies and caramel corn are the main products of the Bean Creek Cookie Company.
Partners Betty Rupley and Sharon Klinger have been in business for six years. They live in Hudson, MI (10 miles north of the Ohio border off Route 127) and are in their second year at the Chelsea Farmers Market.
Chocolate chip, peanut butter, molasses, oatmeal raisin, snicker-doodle, and mint triple chocolate are among the cookie varieties they sell, individually or in three-packs or six-packs.
"We use real butter and the finest quality ingredients we can find," said Rupley. "People really enjoy the products, and it's really nice when they tell us so and come back for more."
"The people are so friendly and I like the atmosphere at the Chelsea Market," said Klinger. "There is such a good variety of quality products." The Bean Creek Cookie Company bakes their cookies the day before the market.

They also sell three varieties of caramel corn — regular, peanut and chocolate covered, and a cereal and nut mix they call "nuts and bolts."
Below is the list of vendors who are expected to be there. Please keep in mind that sometimes the vendors aren't able to attend the market and that planned products are not available.
*Thanks to Chelsea Update for content and pictures
Kapnick Orchards: Asparagus, apples, apple cider, nut butters, fudge, apple butter and baked goods
Afeathermations: Natural media crafts for ceremony and celebration. "New medicine wheels, heal-the-earth wreaths, fans, rattles, and owls this week.  Only mint smudge until later in the season."


You'll find lots of flower flats and hanging baskets at the market Saturday.
Country Hills Pottery: pottery
Chandra June: jewelry
Fluffy Bottom Creamery: artisanal yogurt and cheese
Debbie's Bead Design: jewelry
Two Tracks Acres: breakfast sausage, Italian sausage, chorizo, pork chops, ribs, polish sausage, pork roasts, ground pork, chicken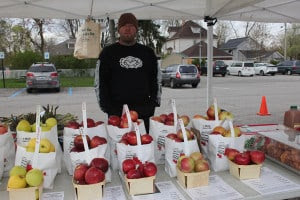 Apples from Kapnick Orchard.
Goetz Greenhouse: lettuce, assorted greens, Swiss chard, kale, beets and asparagus, herb and veggie plants, hanging baskets and annual bedding flowers
Lands of Bru-Garick: eggs, vegetables, plant starts
Stone Hearth Bakery: artisan bread baked from scratch with no preservatives, hot dog buns, cookies, triple chocolate chunk brownies, fruit breads, 4-cheese pepperoni rolls, 4-cheese habanero Jalapeno pepperoni rolls (two to a package).
Merkel Gardens: hanging baskets
Heim Gardens: vegetables
Frog Hollar: cookies, vegetables, starts, pickled products, jams
Dave's Honey: honey

Honey from Dave's honey.
FalafelHummus: hummus and falafel
Fresh: fresh roasted coffee
La Baguette: baked goods, baguettes
Bean Creek Cookie Company: cookies, caramel corn, baked goods.
Thistle Blossom Herbals: Salves, infused herbal medicine oils, moisturizer oils and lotion bars and our famous lavender linen spray
Bordine Farms: dahlia and gladiola bulbs
Brieland Shoultz: eggs, vegetables, soap, jam
Elysium Soap: soap
Herbology Organics: all natural, eco-friendly and sustainably sourced Apothecary items that are custom infused with therapeutic grade Essential Oils, Botanical's and Extracts, ranging from Personal Bath and Body Care items, to Home and Pet Care products.
Robin Hills Farm: vegetables, plant starts
Heaven's Gate Soy Candles: Soy Candles

Asparagus by the bundle.
Mostly Green Acres: soy free, organic fed, free range chicken eggs and whole chickens, grass fed beef
Dancy's Fancy Butter: assorted flavored butters
Stamatopoulos and Sons: infused olive oil, olives, handcrafted face and body creams made with olive oil.
BS Designs – Hand painted barn wood
OTHER NEWS
Thank you everyone who attended our farm to table dinner fundraiser on Monday. Thanks to your generosity, we were able to raise over $1600 for the markets! Also thanks to our vendors who donated food and products to the event.
The market is seeking a market assistant and a children's tent activity coordinator for Saturday mornings. Contract positions, please contact Stephanie at coordinator@chelseafarmersmkt.org for more information if interested.