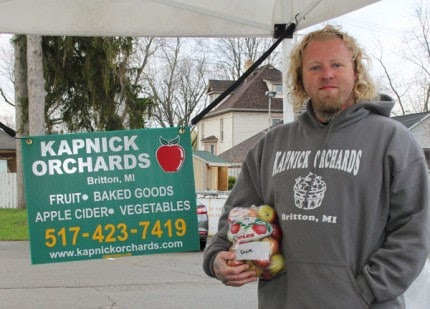 Kapnick Orchards is offering a fruit CSA this year.
This season,
Chelsea Update
is profiling vendors at the
Chelsea Farmers Market
, which takes place in the Palmer parking lot from
8 a.m.-1 p.m.
If you love fruit, there's a new option to eat your fill from June through October through a CSA (Community Supported Agriculture) share from Kapnick Orchards. (And, as a bonus, you won't have to get to the market early to be sure you don't miss out on the most popular fruits.)
For the first time, the Kapnick Orchards is offering fruit lovers the chance to be guaranteed fruit (and some vegetables) every week from the week of
June 7
through the week of
Oct. 24
with pick-ups available in Chelsea at either the
Wednesday

Bushel Basket Market
or the
Saturday

Farmers Market
.
There are full and half shares available and more information and prices can be obtained by asking Jason at the market
Saturday
. Or you can contact Scott Robertello, coordinator,
kapnicks@tc3net.com
.
Among the items you'll receive as a CSA member are strawberries, tart and sweet cherries, blueberries, peaches, nectarines, raspberries, pears, grapes, apples, plums and cider.
But you'll need to decide quickly because a special, reduced-price offer ends on
June 1
and the first share will be available the week of
June 6
.
Below is the list of vendors who are expected to be there. Please keep in mind that sometimes the vendors aren't able to attend the market and that planned products are not available.
*Thanks to Chelsea Update for content and pictures
Kapnick Orchards: Asparagus, rhubarb, apples, apple cider, nut butters, fudge, apple butter and baked goods
Afeathermations: Natural media crafts for ceremony and celebration. Medicine wheels, heal-the-earth wreaths, fans, rattles, and owls. Mint smudge later in the season.
Country Hills Pottery: pottery
Chandra June: jewelry
Fluffy Bottom Creamery – Artisanal yogurt and cheeses
Debbie's Bead Design: jewelry
Flower bulbs for sale.
Two Tracks Acres: breakfast sausage, Italian sausage, chorizo, pork chops, ribs, polish sausage, pork roasts, ground pork, chicken
Goetz Greenhouse: lettuce, assorted greens, Swiss chard, kale, beets and asparagus, herb and veggie plants, hanging baskets and annual bedding flowers
Lands of Bru-Garick: eggs, vegetables, plant starts
Stone Hearth Bakery: artisan bread baked from scratch with no preservatives, hot dog buns, cookies, triple chocolate chunk brownies, fruit breads, 4-cheese pepperoni rolls, 4-cheese habanero Jalapeno pepperoni rolls (two to a package).
Merkel Gardens: hanging baskets
Heim Gardens: vegetables and flowers
Frog Hollar: cookies, vegetables, starts, pickled products, jams
H and H Sugarbush: maple syrup
Dave's Honey: honey
Fresh: fresh roasted coffee
La Baguette: baked goods, baguettes
Bean Creek Cookie Company: cookies, caramel corn, baked goods.
Thistle Blossom Herbals: Salves, infused herbal medicine oils, moisturizer oils and lotion bars and our famous lavender linen spray
Bordine Farms: dahlia and gladiola bulbs
Brieland Shoultz: eggs, vegetables, soap, jam
Elysium Soap: soap
Herbology Organics: all natural, eco-friendly and sustainably sourced Apothecary items that are custom infused with therapeutic grade Essential Oils, Botanical's and Extracts, ranging from Personal Bath and Body Care items, to Home and Pet Care products.
Robin Hills Farm: vegetables, plant starts
Elderwoods: birdhouses and egg
Your market manager Stephanie Willette took a moment to pose for a photo.