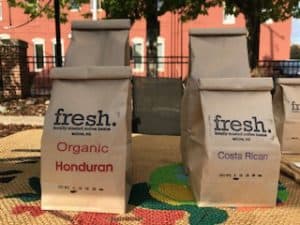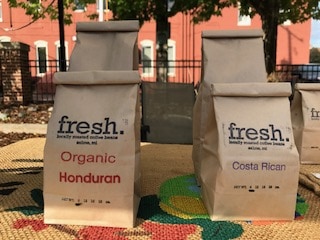 Greetings!
It is going to be a perfect day for the market! We will have pumpkin and face painting activities for the kids from 9:30-12:30, a tasty food demo with Judy Radant (Curried Butternut Squash Soup – YUM!) and lots of wonderful and dedicated vendors.
Our market takes place in the municipal lot adjacent to the library on Park St. every Saturday from May until October. We have two more markets, including tomorrow, before we move on over to the Washington St. Education Center. Don't forget to ask me or any of the vendors about the details of that market or pick up a flyer at our market table.
Our vendors work hard to bring you what they said they would when they said they could, mother nature and life events have other ideas sometimes and we thank you in advance for understanding.
Goetz Greenhouse: a beautiful selection of seasonal veggies and fruits!
La Baguette: French baking at it's finest; savory tarts, madelines, baguettes, gf chocolate chip cookies, and more
Thistle Blossom Herbal: nice selection of herbal salves, boo-boo sticks, lip balm, lavender spray and more!
Bean Creek Cookie Company: a wide variety of cookies – from chocolate chip, to chocolate dipped macaroon, molasses, oatmeal and more. Savory mixes, caramel corn and other tasty treats.
Vogue Booge Candles: soy based candles in many sizes and scents!
Two Tracks: seasonal veggies
fresh. : delicious and locally roasted coffee! Whole bean, ground, or by the cup
Tantre Farm: beautiful organically certified seasonal veggies, fruits and mixed bouquets
Heim: fresh, seasonal produce
Stone Hearth Bread and Bakery: a large assortment of savory bread from rye to whole wheat, cheesy beer bread, kalamata olive, sourdough; cookies, cinnamon buns, pepperoni rolls and so much more!
Myer Jam: variety of hand made jams, dog treats and knit items
Fluffy Bottom: creamery with yogurt and cheese!
Affeathermations: beautifully inspired nature art
Debbies Bead design: earrings, bracelets and necklaces all hand made
Dougs Mugs: lovely hand thrown bowls, mugs, plates, vases, olive oil bottles and more
Lake Divide Farm: certified organic seasonal veggies!
Kapnick Orchard: wide selection of apples, pears, cider, doughnuts, sweet breads, fudge, nut butters and more.
Dave's Honey: many sizes of local honey, wax and sometimes eggs
Brieland-Schoultz: eggs! jam, and heirloom seasonal veggies
H&H Sugarbush: get your maple syrup for the season! Their last market of the year.