The
Saturday

Winter Farmers Market
takes place from
9 a.m.-1 p.m.
inside the cafeteria at the Washington Street Education Center.
*Thanks to Chelsea Update for content and pictures
This week, there will be a Market Basket giveaway.
Below is a list of vendors who are expected to be there. Please keep in mind that sometimes vendors are unable to come at the last minute or that some of the items that they planned to bring aren't available.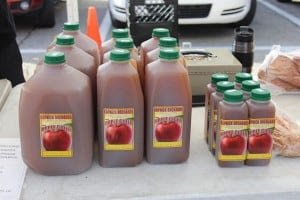 Kapnick Orchards
– Apples, cider, baked goods, fudge, Christmas wreaths
Frog Hollar – Winter squash, potatoes, beets, apples.
Debbie's Bead Design – handmade jewelry
Affeathermations – Natural media crafts for ceremony and celebration. Bark art, wall hangings, medicine wheels, heal-the-earth wreaths, fans, rattles and owls.
Country Hills Pottery – pottery
Bean Creek Cookie Co – old fashioned cookies made from scratch, caramel corn
Brieland-Schoultz – soap, eggs, jam

La Baguette
– French-style pastries and baguettes
Marks Farm – Christmas wreaths, winter squash, kale, cabbage, potatoes, onions, borccoli, sweet potatoes, other produce, Christmas greens and wreaths.
Two Tracks – chicken, Italian and breakfast sausage, chorizo, pork chops, bacon, pork roasts, ham hocks, Thanksgiving turkeys
Golden Fleece – grass fed beef, eggs, lamb

Pregitzer Farm
– Winter squash, kale, cabbage, potatoes, onions, broccoli, sweet potatoes, other produce
Lands of Bru-Garick – eggs, quilted bags, hand-made goods
Myer Jam – jams and jellies
Dave's Honey – honey
Tantre Farm – Potatoes, beets, winter squash, cabbage, chard, collards, Brussel sprouts, spinach, onions, other produce

Mostly Green Acres
– soy free, organic fed free range chicken eggs, chicken, grass fed beef
Pastry Garden – Pastries including cakes, tarts, cookies, scones, cupcakes, etc.
Kristie's Creations – wool sweater mittens, headbands and fingerless, dress top towels, bibs and snowmen.