Chicken & Blueberry Pasta Salad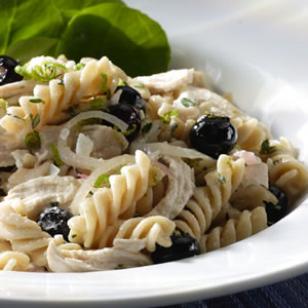 Nothing says summertime quite like a refreshing and flavorful dish of pasta salad! And with the in-season blueberries and shallots that top this lovely entree, friends and family can enjoy the bounty of summer.
But this dish boasts more than just seasonal produce appeal: as a recipe from EatingWell, it's also diabetes appropriate, low-calorie, low cholesterol, low saturated fat, and low sodium! Enjoy this meal guilt-free!
Nutrition Information:Per serving: 315 calories; 11 g fat ( 3 g sat , 6 g mono ); 49 mg cholesterol; 33 g carbohydrates; 0 g added sugars; 23 g protein; 5 g fiber; 238 mg sodium.
Ingredients
1/4 teaspoon salt
1 teaspoon freshly grated lime zest
1 tablespoon chopped fresh thyme
1 cup fresh blueberries
3 tablespoons lime juice
1/3 cup crumbled feta cheese  1/3 cup reduced-sodium chicken broth
1 large shallot, thinly sliced
3 tablespoons extra-virgin olive oil
8 ounces whole-wheat fusilli or radiatore
1 pound boneless, skinless chicken breast, trimmed of fat
Preparation
Place chicken in a skillet or saucepan and add enough water to cover; bring to a boil. Cover, reduce heat to low and simmer gently until cooked through and no longer pink in the middle, 10 to 12 minutes. Transfer the chicken to a cutting board to cool. Shred into bite-size strips.
Bring a large pot of water to a boil. Cook pasta until just tender, about 9 minutes or according to package directions. Drain. Place in a large bowl.
Meanwhile, place oil and shallot in a small skillet and cook over medium-low heat, stirring occasionally, until softened and just beginning to brown, 2 to 5 minutes. Add broth, feta and lime juice and cook, stirring occasionally, until the feta begins to melt, 1 to 2 minutes.
Add the chicken to the bowl with the pasta. Add the dressing, blueberries, thyme, lime zest and salt and toss until combined.