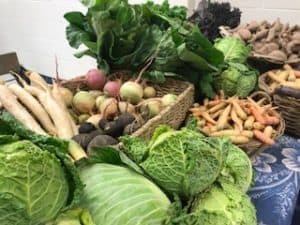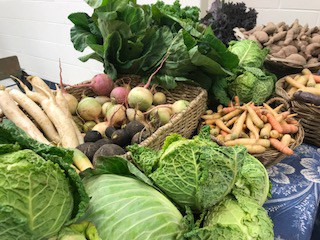 Greetings all-
It is with great pleasure that we will be hosting our second annual CSA Matching Fair this Saturday from 10 am – 1pm and in concurrence with the Farmers Market!
What does that mean to you? This is an opportunity to connect with local farmers/farms to find out more about CSA (Community Supported Agriculture), hopefully find a CSA model and farm that work for you and sign up, mingle with like minded stewards, or in the least just come and listen to the MacDonald Brothers, drink hot coffee and see all your favorite community members, farmers, artisans and more.
The market runs every Saturday until the 31st of March from 9am-1pm at 500 Washington St. building 100 in the cafeteria. We will be moving outdoors the 5th of May in the municipal lot adjacent to the library on Saturdays and the 9th of May on the corner of M52 and Old US 12 on Wednesdays. Note there will be a break for the entire month of April.
With no further ado…
KAPNICK ORCHARDS: apples, apple cider, doughnuts, fudge, sweet bread, and more
LAKE DIVIDE FARM: certified organic seasonal veggies – micro greens and spinach are in!
BRIELAND SHOULTZ: eggs, handmade jams, and goat milk soap
GOLDEN FLEECE FARM: goat, beef, lamb and eggs all sustainably raised and pastured
TIANI BODY CARE: deliciously scented and equally effective foaming hand soaps, lip balms and salve
BEAN CREEK COOKIE CO: chocolate chip, chocolate dipped macaroon, caramel corn, nuts and bolts, sugar cookies, peanut butter cookies and more.
THISTLE BLOSSOM: wonderfully handmade salves, linen spray, hand sanitizer, and more
JACOBS FRESH FARM SHARES: local honey
DOUGS MUGS: utilitarian and unique hand thrown ceramics
VOGUEBOOGE: Soy based candles in many scents and sizes!
LA BAGUETTE: delicious French baking! baguettes, sweet breads, savory tarts, madeleines, gluten free chocolate chip cookies, and cake
BREAK O DAY FARM: tasty pork!
MYER JAM: handmade the old fashioned way with love
(MAYBE) SHORELINE WILD SALMON: fresh caught Alaskan salmon – delicious
GOETZ GREENHOUSE: as part of our CSA matching fair and a regular summer vendor, Goetz will have carrots, lettuces, radishes, swiss chard, kale, and spinach from their hoophouses.
TANTRE: as part of our CSA matching fair and a regular summer certified organic vendor Tantre will potentially have some delicious veggies for sale
Again, thank you so much for all of your continued support – we VALUE YOU!