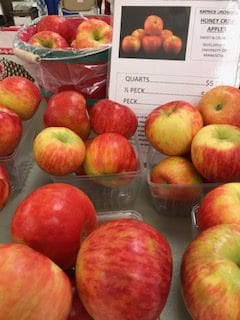 Greetings All!
Well, spring -like weather makes me long for digging in the dirt and preparing for all that future seed potential! Alas, I know that we still have some time before those days of weeding and growing will take place. I will relish in the sun and warmth while I enjoy the late winter ebbing and flowing.
We will have LIVE music with Scott Thatcher this week – come on out and hear his sweet voice as you sip hot coffee and both engage with the community and support the local economy.
We expect to see the following vendors this week:
LAKE DIVIDE FARM: organically certified seasonal produce
KAPNICK ORCHARDS: apples, apple butter, fudge, doughnuts, apple fritters, sweet and savory bread
BEAN CREEK COOKIE COMPANY: tasty treats from chocolate chip cookies to savory mixes and caramel corn
DOUGS MUGS: a lovely selection of hand thrown pottery – unique and utilitarian!
VOGUE BOOGE: a soy based candle company with a variety of sizes and scents


PIPER LEATHER: really sweet hand crafted leather goods
THISTLE BLOSSOM HERBAL: a unique set of amazing salves, balms, boo-boo sticks, linen sprays, hand sanitizer and more
LA BAGUETTE: super delicious french baking! Madeleines, baguettes, sweet cakes, savory tarts and gluten free chocolate chip cookies!
MYER JAM: hand made jam in many flavors, crocheted items and dog treats
JACOBS FRESH FARM SHARES: local raw honey
BRIELAND SHOULTZ: eggs! jam and goat soap
(maybe) SHORELINE WILD SALMON: fresh caught and frozen or smoked amazing salmon
As always, thank you so much for your undying support as we continue to explore how to best service you and the needs of the community through our winter market space!