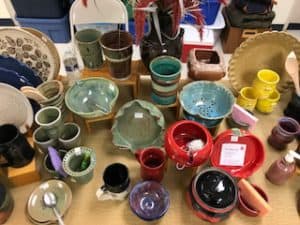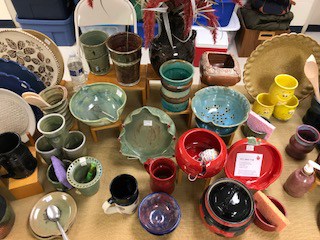 Greetings
Happy Thanksgiving time! I sure hope that all of you are basking in the post glow of full tummies, tender family moments and holding gratitude for all the blessings in your life.
The indoor market takes place every Saturday from 9am-1pm in the cafeteria of the WSEC, building 100. You can park in the back lot (Book St. Lot) or in the front parking lot by the Seniors Center Entrance.
This week we hope to see:
TANTRE FARM: beautiful organically certified seasonal produce
LA BAGUETTE: tasty french baking – from sweet cakes and madeleines to savory tarts and baguettes
THISTLE BLOSSOM HERBAL: salves and boo-boo sticks, lip balms and linen spray
BEAN CREEK COOKIE CO.: a wide assortment of sweet treats including but not limited to, chocolate chip cookies, molasses cookies, peanut butter cookies, caramel corn, chocolate chip dipped macaroons and savory mixes.
VOGUEBOOGE: Soy candle company that formulate and produce cleaner, biodegradable and renewable candles that burn longer than traditional candles. Custom made to your specifications if desired!
COUNTRY HILLS POTTERY: Beautiful wheel thrown pottery. Functional and microwave/oven safe
SHORELINE WILD SALMON: A small team based out of Pelican Alaska dedicated to bringing wild caught Alaskan salmon to individuals and families in Michigan. All of their fish are fresh caught and handled one-by-one with hooks and lines and immediately process, vacuum sealed and frozen to ensure the best quality of product.
DERBIE'S BEAD DESIGN: lovely jewelry composed mainly of Swarouski crystals. Earrings, bracelets and necklaces.
AFFEATHERMATIONS: Original, natural media creations (of mostly found feathers, found objects) for ceremony and celebration!
TIANI BODY CARE: foaming hand soap, body lotion, hand salve and lip balms. Hand crafted in Chelsea, MI with locally sourced ingredients!
MARKS FARM: nice selection of seasonal produce, eggs, and meat
MYER JAM: Fresh jam made the old fashioned way and made with love! lots of flavor variety
KAPNICK ORCHARDS: apple cider, nut butters, fudge, apples, apple butter, pies, breads and donuts
DOUG'S MUGS: Unique utilitarian ceramics items
JACOBS FRESH FARM SHARES: local honey in a variety of sizes
Looking forward to seeing you all at the market 🙂