Greetings All
Phew. It has been a whirlwind of a month! I am just sneaking this into the month of January…
I hope that you all have had a sweet start to the year! I miss everyone and our fun market days.
A couple of things to note:
1. We are hiring a new assistant! Please, please send anyone you think might be a fit to the link below to register. 8-12 hours a week, mostly onsite Saturday with some need for support from home during the rest of the week. Farmers Market Assistant – Seasonal (Wednesdays & Saturdays) May through October job in Chelsea, Michigan, 48118 | Business Administration jobs at Saint Joseph Mercy Health System. (trinity-health.org)
2. We are hosting a CSA fair! Agricole from 9am-12pm on Saturday, February 25th. Come meet your farmer and get information on subscriptions!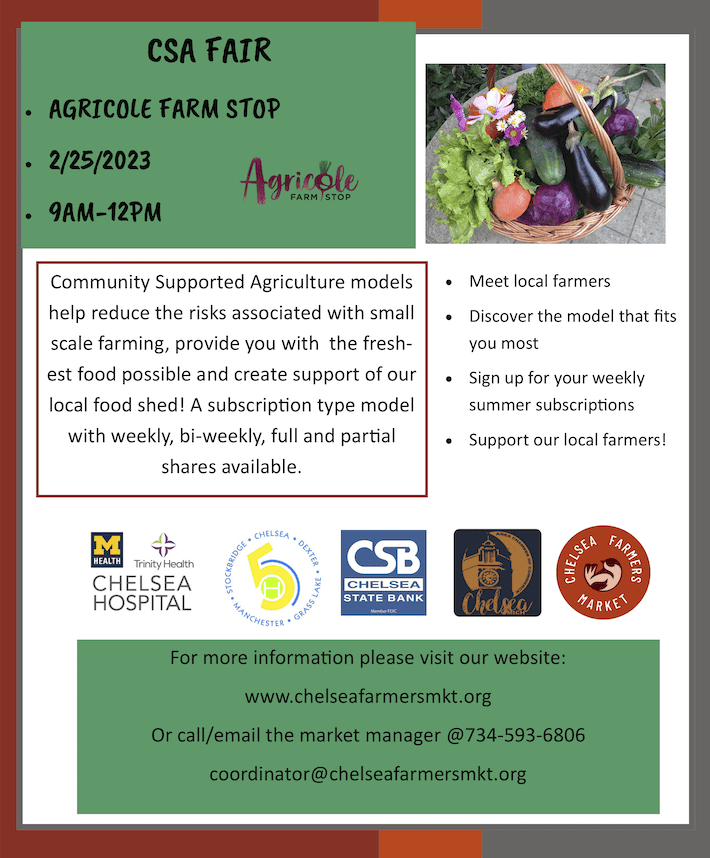 3. Want to volunteer or Sponsor the market this year? Reach out to Coordinator@Chelseafarmersmkt.org for more information on how you can get involved!
4. We will have hoodies, beenies, trucker hats plus our tee shirts available for sale soon! Please let me know if you want to special order a size!
Thanks so much for all of your continued support! I can't wait to bump into your lovely faces in our community.
Love, Emily