Greetings all
It is March! Despite it not officially being spring we are definitely experiencing spring-like weather and with that, the REAL preparation for the season. Seeds are being sown in greenhouses, fields prepped on warm days, machines and fences repaired, and excitement brewing!
Have you signed up for your local CSA share this year? Check out the website for more info
on who your best farmer fit is!
Did you know that you can eat seasonally ALL year, not just during what we associate with our "abundant season"? Check out this awesome how-to guide

from MSU extension on how to eat locally and seasonally all year. Finding farmers with season extension is a great way to eat your greens!

Do you have a 6th-8th grader interested in taking on some more responsibility this summer and building some savings? Check out the Chelsea Hospital's Safe Sitter Training course. Click here for a link to the benefits of our teens babysitting.

Sunday, April 16th the Chelsea Farmers Market will be hosting a spring market at the Chelsea Depot! Join us from 11-3:30 for a sneak peak at what you can expect during the season (outdoor season opens May 3rd!)
Finally, are you interested in becoming a sponsor of the market? The contributions of our sponsors are invaluable! By supporting our market efforts – helping to purchase awesome swag, staffing the children's tent, sharing the cost of the market music and supporting our marketing efforts – your contributions reach many! If you or your business sponsor before the 1st of April we will get you on our weekly market banner!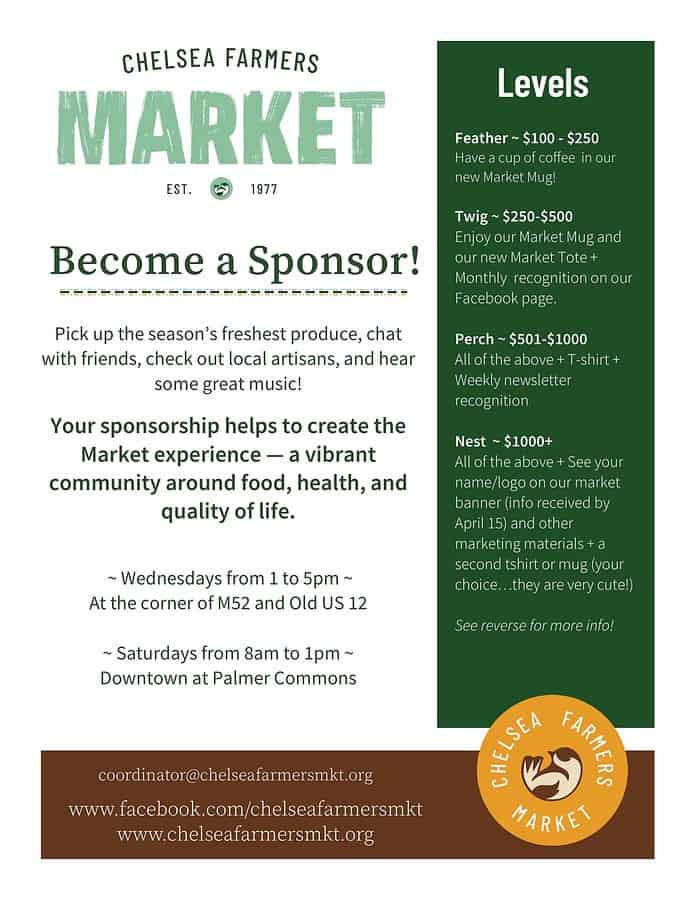 Thanks so much all! I am forever grateful for you.
Best,
Emily