Greetings All!
This weather! Seems to be that the rain likes market days. Don't let that stop you from coming out and supporting the folks who work rain or shine to bring fresh food to the table! I will have a few extra umbrellas at the market tent in case you need one!
Where: Chelsea State Bank Parking Lot; 1010 S. Main St.
When: Wednesdays through the end of October
Time: 1-5pm
This line up is subject to change at the last minute and varies from week to week. For more in depth information on our vendors continue to check our website for updates on who is who.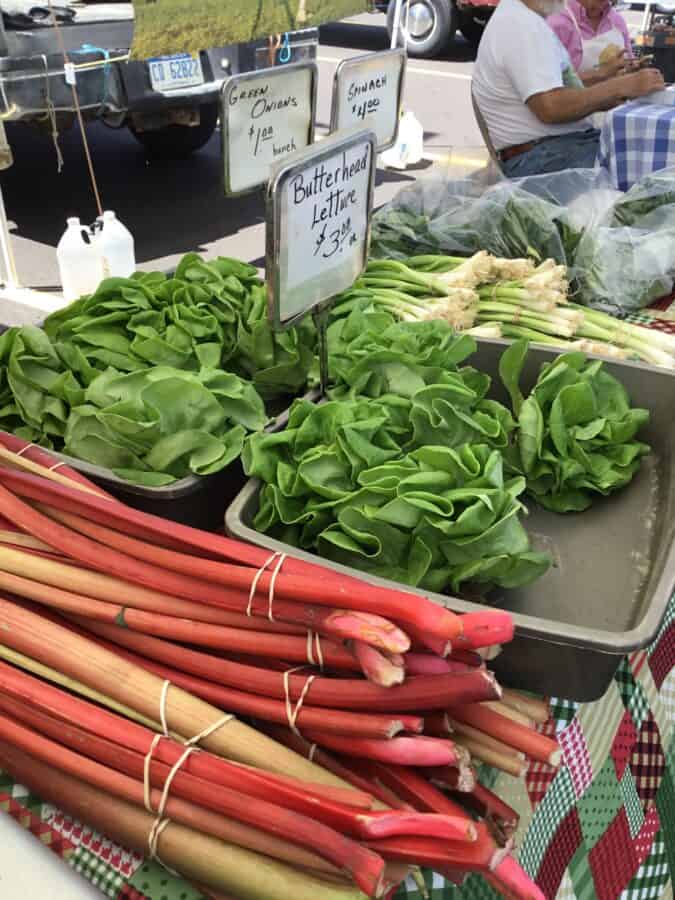 Kapnick Orchards
Marks Farm
Kermit's Pad
Noggle Farms
Debbie's Delites – back next week
Dexter Folsom (weather permitting)
Lynn Eckerle and Blue Rose Studio – back Saturday
Lavender and Grace
Maureen Lochey (weather permitting)
Jacob's Fresh Farm -back next week
Debbie's Beads (weather permitting)
Paul's Plant Starts
La Baguette
Country Crafts (weather permitting)
Kiwanis Club of Chelsea – back Saturday
Grateful Soil – back next week
Fluffy Bottom Farm – back next week
Affeathermations (starting in June)
Rayla House Beeswax Essentials
Seasoning Solutions
Recipe of the week: Gluten Free Rhubarb Coffee Cake
PREP TIME:15 minutes
COOK TIME: 35 minutes
TOTAL TIME: 50 minutes
Ingredients
Coffee Cake
1/2 cup butter
1 1/2 cup packed brown sugar
1 egg
1 1/2 tsp pure vanilla extract
2 cups GF all purpose flour (regular can be used!)
1/4 tsp salt
1 tsp baking soda
1 cup sour milk (1 Tbsp apple cider vinegar, then add enough milk to make 1 cup total; let sit 10 minutes)
1 1/2 cup rhubarb, raw & cut into 1-2 inch pieces
Topping
½ cup sugar (may use as little as 1/8 cup sugar, if desired)
2 tsp ground cinnamon
¾ cup chopped walnuts (optional)
Instructions
Preheat oven to 350° F.
Prepare measured sour milk and set aside.
Using an electric mixer, cream butter and brown sugar until light. Add egg and vanilla and beat once more.
In a separate bowl, whisk together flour, salt and baking soda. Slowly stir flour mixture and sour milk mix alternately into butter/sugar mixture until well blended. Fold in cut rhubarb.
Line with parchment paper or oil one 8×11 or 9×13 inch pan. Pour cake batter into pan and smooth the top with a rubber spatula.
Combine topping ingredients in small bowl and sprinkle on top of cake batter.
Bake for 30-35 minutes, or until a toothpick or knife comes out of the cake clean and the center is no longer jiggly when moved. (Jules note: I baked in one 8×11 pan and the cake wasn't done until it had baked for 45 minutes, so keep checking every 5 minutes after 30 minutes. Insert a butter knife into the center of the cake and when it comes out clean, it's done. If the walnuts are browning too much, cover the top of the cake loosely with aluminum foil.)
Remove to cool on a wire rack before serving.
Serves 6.
Grateful for your continued support of our market spaces!
Best,
Emily & Robyn