I am so excited that I get to make special trips to connect with the farmers of our markets this year! Over the next month I will be visiting all the fruit, vegetable and meat farms we host at our markets and I couldn't be more pleased with the opportunity to CONNECT. We all have different lenses that carry our physical and emotional selves through time and space. By engaging with this community of hard working, inspiring entrepreneurs in this intimate way opens space for dialogue and understanding. It is through empathy that we can develop real conversations about relationship; with one another, with all living beings and with the planet at large. These families are showing their passions to me and are driving me to have an understanding of their lives through their actions!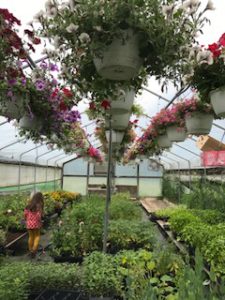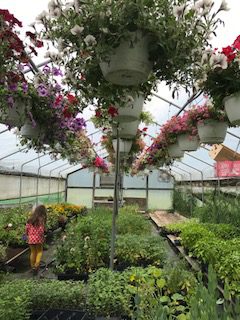 Margaret Merkel, and her husband Bill Stech are the faces of Merkel Gardens at the Cheslea Farmers Market. Margaret's father and mother started this business in the early '80's after working other day jobs. Margaret and Bill joined in about 15 years later and take great pride in the families offerings. They currently operate 4 greenhouses and grow a large variety of annual and perennial plants in both flats and hanging baskets. They also sell cut flowers and seasonal veggies off of a plot of land just east of town as you close in on the I-94 entrance near Fletcher Rd.
Custom pieces, including wedding flowers and wreaths, are also available, growing advice and a good laugh if you stick around their greenhouses long enough.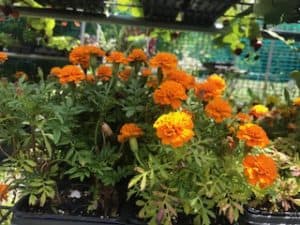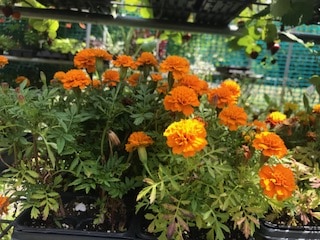 When I arrived with my two daughters mid afternoon on a hot Friday, it was clear that Marageret doesn't slow down much. She had several interactions with customers out of her home greenhouse space at 142 Van Buren St. in the short 40 minutes we were there. Her neighbors and her community know to come to her for what they need to landscape their spaces, ask advice about a plant they are trying to identify or share what the rain has or hasn't been doing for their gardens. She has a solid green thumb, a kind heart, and great smile; not to mention the quality of her plants (I bought two flats of strawberries!).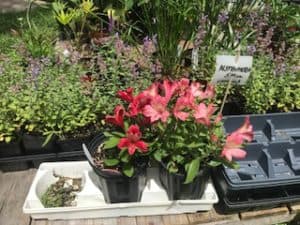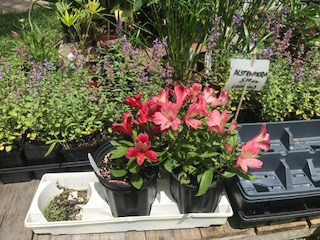 You can find Margaret and Bill most Saturday markets, especially during the early spring. For more information on their offerings check out their website here.