Gosh, this weather has been stellar. Today's market is going to be perfect. Come out and see for yourself!
Where: 1010 S. Main St; Corner of M52 and Old 12
Time: 1-5pm
When: Every Wednesday between now and October
This line up is subject to change at the last minute. For more detailed vendor information please visit our Vendors page
Bordine Farms
Chemily Consulting (maybe)
Country Crafts
Debbie's Bead Design
Fluffy Bottom Farm
Hankra Jewel
Kapnick Orchards
Kermit's Pad
La Baguette
Lynn Eckerle – back next week
Marks Farm and Greenhouse
Maureen Lochey – back next week
Silk Flower Arrangements by Pam
Sol Microgreens
Srodeks Sausages (maybe)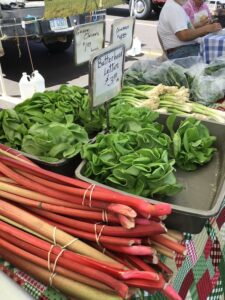 In other news…
Market swag is flying off the shelf! Come get your tote, tee, mug, hat or hoodie – I can always order a different size and color…
The Farm to Table Fabulous Feast fundraiser is getting the gears moving. This year's event will be in September in Manchester at Alber Orchard! Please email coordinator@chelseafarmermkt.org to find out how to sign up to volunteer for this amazing event or purchase tickets – look for sales to open sometime in early-mid June!
Strawberry Festival is just around the corner. June 17th we will host a fundraiser for our children's tent. Strawberry shortcake will be available to purchase (come early, when we sell out we sell out!). All proceeds will go to the children's activity tent on Saturday market days!
Want to volunteer – sign up here
BIG shout out to our supporters (to include all of YOU):

Partners: The Chelsea State Bank, The City of Chelsea (DDA), The Chelsea Hospital, The 5 Healthy Towns Foundation
Sponsors: Kelly Goodell, Larry and Stephanie Doll, Pat and Sandra Merkel, Amy Zoran, The Chelsea Area Chamber of Commerce, Janice Carr, J and L Heating and Cooling.

Ask how to become a sponsor yourself..