Supplemental Nutrition Assistance Programs at the Farmers Markets in Chelsea
The Chelsea Farmer's Market is proud to be a part of 7 different food assistance programs, all with the goal of increasing the health of Chelsea residents, making fresh foods available to those in need, and getting the market more involved in its community! Our 7 programs are:
Below you will find descriptions and eligibility requirements for each program.
What is SNAP (aka "Bridge Card")?
The Supplemental Nutrition Assistance Program (SNAP), also known as the Bridge Card, is the nation's largest nutritional assistance program and the cornerstone of the Federal Government efforts to alleviate hunger. At farmers markets, SNAP benefits are accessed via Electronic Benefit Transfer (EBT).

At the market in Chelsea, visit our welcome booth to receive tokens or ask for any additional information you may need. Simply swipe your card, get your tokens and use your tokens to buy fresh food including fruits, vegetables, meats, cheese, bread, eggs and plants to grow vegetables in your garden. Tokens may not be used to purchase hot food products.
To be eligible:
Department of Health Services will be at Faith In Action to help sign up for Bridge Cards on Wednesdays. Visit the Faith In Action website or call (734) 475-3305 for location and hours.
What is Double Up Food Bucks?
If you are eligible for SNAP and use your SNAP Bridge Card to shop for food at the farmer's market, the amount of money you spend is automatically matched with Double Up Food Bucks bonus tokens, which can be used to purchase produce at the market. This is an automatic program running parallel with SNAP; you do not have to apply. Double Up Food Bucks runs June through October only at the Chelsea Farmers Market on Saturdays and Wednesdays.
FMR – Regional Food Assistance program funded by 5 Healthy Towns Foundation
This program is designed to reach those who don't quite qualify for SNAP benefits but are still struggling to put food on the table. It is first come first serve with a total of $100 per person per season. To apply, receive and spend coupons, inquire at the following farmers markets:  Chelsea, Grass Lake, Manchester and Stockbridge.
What is Prescription for Health?
Faith in Action's Grace Clinic is participating in the Prescription for Health Program, which connects patients at medical clinics to their local farmers market. Participants receive nutrition education and support, and they also receive coupons to purchase fresh fruits and vegetables at the farmers markets June - October!
How do you get involved?
Contact Faith in Action. 
If you think that you are eligible for the program, meaning you are at risk for a chronic disease and have food access difficulty, contact either

Sarah Shugart

or Doug Smith to get involved. Their telephone number is (734)-475-3305 and their emails are below.

Attend a group enrollment visit.
At a group enrollment visit, you will receive information about the program, set specific goals for healthy eating, and receive a "prescription" for fresh fruits and vegetables. The prescription may be filled at the farmers market and is worth a total of $100.
-Follow this link to see an enrollment schedule for this spring PFH enrollment sessions
Take your prescription to the Welcome booth at the Chelsea farmers market.
Program staff give the patient $10 in tokens at each visit, up to 10 visits. The tokens can be used the same as cash at the market to purchase fresh fruits and vegetables.
What is Senior Project Fresh?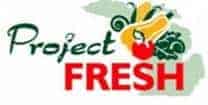 Senior Project Fresh is a free program that provides qualifying older adults with more access to fresh fruits and vegetables. If you are already enrolled in Senior Project fresh, the Chelsea Farmer's Market will accept coupons with which you can buy eligible items – berries, honey, fresh greens, and vegetables. Click here to see a full list of purchasable items.
To be eligible:
60 years or older
Have a household income of 185% of poverty or less
attend the Chelsea Farmer's Market! (or any market where coupons are accepted)
To sign up or find out if you are eligible contact Tedi Milgrom with Washtenaw County Health Department at milgromt@washtenaw.org. Registration is usually June - August every year.
What is WIC Project Fresh?
Project Fresh includes fruit and vegetable benefits for Women Infants and Children (WIC). Women who are either pregnant or breastfeeding are targeted to help meet their special nutritional needs with coupons used at farmers markets. Their goal is to help families eat and be healthier. For more information about the WIC, please visit the Washtenaw Health Department's website here.
To be eligible: 
WIC Project Fresh caters specifically to:
low-income pregnant women
low-income breastfeeding women
non-breastfeeding postpartum women
infants or children (up to 5 years old) at nutritional risk
To determine whether or not you meet the income requirements, please check out the Eligibility Reference Sheet from the Washtenaw Health Department here. The first page will guide you through calculating your total annual income, and the last page shows you whether or not you are eligible based on that income.
WHAT ARE SENIOR MARKET BUCKS?
Senior Market Bucks is a program designed specifically for benefiting seniors in our community. The goal is to help folks access fresh fruits and veggies, meat, eggs, dairy and honey through the local farmers market with the use of coupons. They come in packets of 10 $1.00 coupons accessible to those 60+ and living in Washtenaw County. The program runs May through December in Chelsea, Dexter and Manchester.
Contact Us!
If you  have questions about how to use SNAP/EBT or Double Up Food Bucks at the farmers markets in Chelsea, please contact our Market Coordinator at coordinator@chelseafarmersmkt.org
Other Services:
WAVE bus service available to Bridge Card customers
The Western-Washtenaw Area Value Express (W.A.V.E) bus will provide FREE service on market days for free to all customers who show a Bridge Card on their way to the farmers market from July to October.
The WSEC campus is now on the FREE Chelsea Community Ride bus operated by the WAVE. Chelsea Community Ride Route Map   WAVE bus schedule