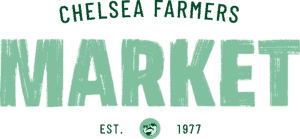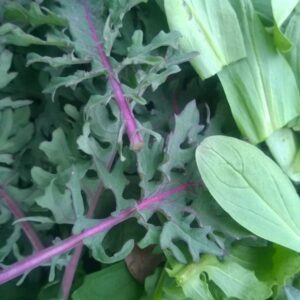 Greetings all!
I know that I have been quiet. Hibernation is something that I relate to…but happy almost SPRING!
I do hope that you all have been well, staying healthy and connecting with your loved ones as the days begin to lengthen and we revisit the way the sun feels warm on our faces.
The market season is soon upon us! I know that the vendors and myself are so ready to kick off another amazing season in 2022.
A few things to note…
The market logo is getting a facelift! Yes! That is correct. Though we all have come to know the little red rooster that represents our market space, we have a new and gorgeous design by Dolan Personke. He grew up right here in Chelsea and has a soft spot for our market. The Market Advisory Committee, Dolan and myself all reflected on some of the important tenants of our market place and what feelings we were hoping to evoke with a new logo…I hope you enjoy it.

We are slowly updating all of our materials, website, Facebook, etc…if you notice a place our old logo is living over the coming months let me know so we don't miss a beat!

Market will start up the 30th of April this year! Mark your calendars!
Do you have a product that you are interested in selling at the market? Or do you know someone who has value to add to our market place? Please send them to our website to fill out an application! Become a Vendor – Chelsea Farmers Market (chelseafarmersmkt.org)
Thank you to The City of Chelsea for approving our use of spaces for the market season! WE are GRATEFUL!
Are you or your business interested in becoming a sponsor of the market? Your sponsorship could help fund our market music, children's activity tent, food demonstrations and more! Please reach out to find out more information!
**Together to Fight Suicide is hosting a Dine to Donate at Aubree's in Dexter on March 8th from 11am-10pm – 20% of your bill will go to this important work! They are also looking for volunteers…

We are currently looking for dedicated folks, interested in joining our AFSP MI Family!

Did you help out on the day of the walk, and you're maybe a little curious about getting more involved?
Did you attend the walk or one of our programs and want to learn more?
Join us at Aubree's in Dexter, on March 8th from 6:00pm-8:00pm (open house style). Enjoy some yummy apps on us and learn more about how you can join the #fightagainstsuicide in Ann Arbor! We can't wait to meet you!
(REGISTRATION IS REQUIRED)- Sign up Today- https://aavolnt.attendease.com/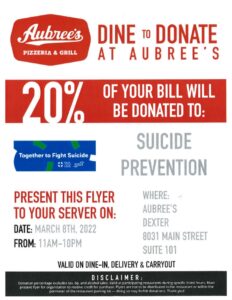 Thank you all so much for your continued support for our markets! We value YOU!