Wow! IT is the LAST outdoor market of our 2023 season. I am beyond grateful to all of you for your continued support of our market space, the vendors, and the food shed. We cannot operate without YOU!
Please join us for an amazing farewell to the outdoor season.
When: Saturday October 28th
Where: 304 S. Main St. Chelsea, MI 48118
Time: 8am-1p
**Look for our winter and spring pop-up markets -details below.
This list is subject to change last minute
Arbor Trading Post
Beetons Fine Foods
Brieland Shoultz Farm
Chamber Spotlight: Lazar Spinal
Checkered Flag Chocolate
Dexter Folsom
Doug's Mugs
Fluffy Bottom Farm
Goetz Greenhouses
Grateful Soil
Hankra
Jacob's Fresh Farm – catch him at his farmstand
JT's Deli
Kapnick Orchards
Kermit's Pad
La Baguette
May We Color – finished for the season
Pola Pastry -finished for the season
Roaming Stone – finished for the season
Sallie's Toy Box -finished for the season
Smokey Michigan – back with their amazing sauces, rubs and chutney
Tantre Farm
The Cookie Lady
Upperhand Fish
Come and guess how many candy corn are in the jar and win $20 in GC to the farmers market (can be spent at our holiday pop ups!). Come dressed up and get an extra prize.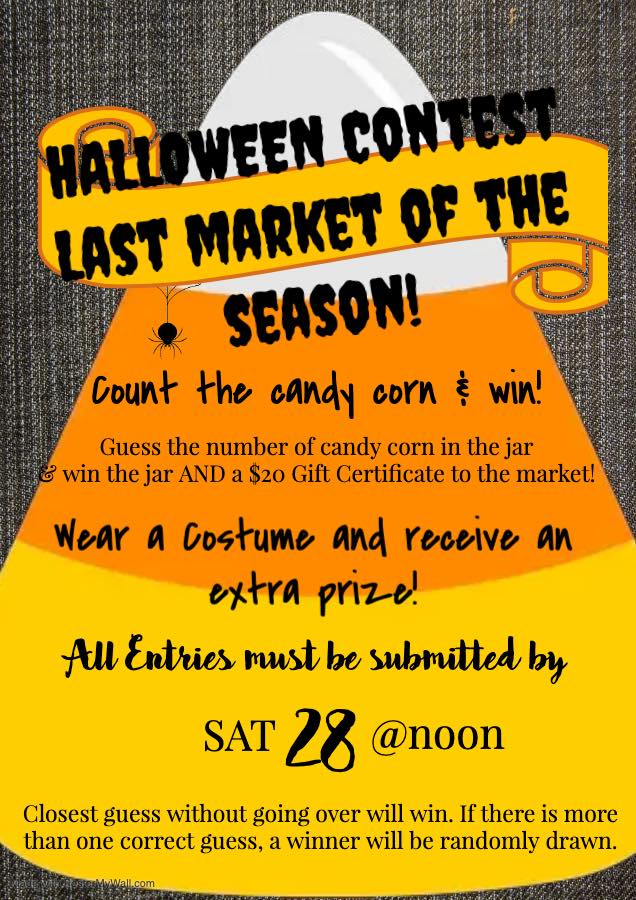 Children's tent activity – Join us for a final craft! Make a sweet seed picture garland.
Did you know that the Chelsea Hospital offers Heartsaver CPR classes? Click the link here to register if you want to be prepared for any emergency situation! October 29th class FULL, but December 5th still has space.
SPONSORS: we are always looking for more support as a non-profit. Check out our sponsorship opportunities; any amount is welcome!
Speaking of…Thank you to our supporters!

PARTNERS: The Chelsea State Bank, The Chelsea Hospital, The 5 Healthy Towns Foundation, The City of Chelsea (DDA)
SPONSORS: The Chelsea Area Chamber of Commerce, Kelly Goodell, Stephanie and Larry Doll, Amy Zoran, Janice Carr, Pat and Sandra Merkel, J and L Heating and Cooling, Chelsea Police Department

Winter INDOOR markets are set at the Chelsea Train Depot – November 12 and December 16!